Shimano improves the technologies and releases new reels from time to time. Its already popular spinning reels series also keep getting construction and technology upgrades to bring anglers the next level.
Same goes with its Stradic series, today we have FK series with codes HGFK & XGFK and upgraded CI4+ models with codes XGFB & HGFB while Reels of FJ, FI, FH, MgFB, MgF, FM, FML & FMLA have been discontinued.
Shimano Stradic Review
Not only are these great looking reels, but they are also bringing several high-end performance features to one of the most popular (and affordable) reel lines. The Stradic Series of Shimano spinning reels exceed the demands of hardcore fishing use and hard-core anglers. Anglers can rely on Shimano cold-forging and precise gear cutting technology to focus strictly on their passion for fishing.
Common Features and Specifications of Stradic series, you will find in both FK and CI4+ are
| | |
| --- | --- |
| Bearings | 6+1 |
| Gear Ratio | 6.0:1 |
| Weight | 6.9-11.3 Oz. |
| Max Drag | 7-24 lbs |
| Line Retrieve | 31-41 in |
| Features | X-Ship and Hagane cold forged drive gear |
| Prices | Check Price |
Shimano Stradic FK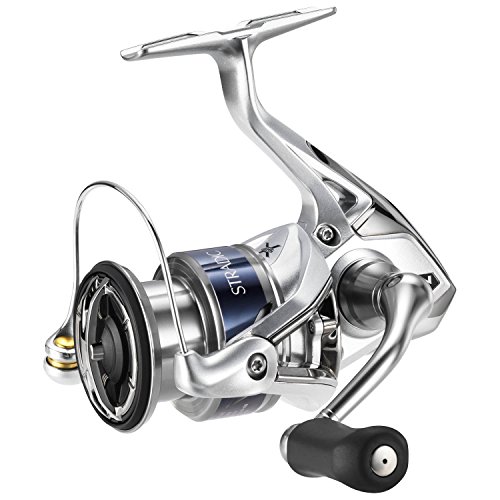 Shimano released the Stradic FK in July 2015 and discontinued Stradic FJ series. FK series is considered to be its upgraded version of FJ reels.
So What was new in Shimano stradic FK vs FJ? The main upgrade was the lighter weight of Stradic FK ranging from 6.9 to 11.3 ounces as compared to the weight ranging from 7.5 to 20.5 ounces of discontinued FJ series. The 6000/8000 models were also discontinued, as the Saragosa SW handles these sizes with similar features and design.
Specifications
Stradic FK inherits visual design cues and features from both the Stella FI and the Saragosa SW models. It has the lines and sexy shape of the Stella, with the sharp silver and dark blue colors to match the larger Saragosa SW.
The G-free body is more than just a shape change, it's a repositioned worm gear that makes the reel feel great in hand.
It also features Shimano's Hagane that is a culmination of built-in toughness and durability. The Hagane Gear provides power from a cold forged drive gear while Hagane Body affords reel rigidity and impact resistance, along with transforming angler strength into cranking power.
The X-Ship provides power and smooth rotation from large precision cut gears. Core Protect provides water resistance without affecting rotation feeling and sealing key areas to prevent any water intrusion.
These features provide the most demanding anglers with the needed smoothness and durability for freshwater species, including bass, walleye, trout, and steelhead. Also for many inshore saltwater pursuits, including redfish, bonefish, and sea trout.
What Size Suits You?
Stradic FK reels came in 5 different sizes of ST-1000HG, ST-25000HG, ST-C3000HG, ST-4000XG, and ST-C5000XG. The C3000 is a compact body version (the "c" stands for the compact). That means the body from the 3000 reels has a size 2500, but with more line capacity, the spool is deeper.
Model
Power Line Cap
Mono Line Cap
Weight
(Oz.)
Max Drag
Line
Retrieve
Gear Ratio
Prices
ST1000HGFK
10/95
15/85
20/65
2/270
4/140
6/110
6.9
7
31
6.0:1
Check Price
ST2500HGFK
10/150
15/145
30/100
6/200, 8/140, 10/120
8.3
20
35
6.0:1
Check Price
STC3000HGFK
10/200
20/140
40/105
6/230
8/170
10/140
8.3
20
35
6.0:1
Check Price
ST4000XGFK
15/280
30/170
50/150
8/240
10/200
12/160
9.9
24
39
6.2:1
Check Price
STC5000XGFK
20/220
30/200
40/160
10/240
12/195
14/165
11.3
24
41
6.2:1
Check Price
All five reels feature six shielded AR-B bearings plus Shimano's one-way bearing Power Roller. Each reel equips a cold-forged aluminum spool.
The Stradic 1000HG, 2500HG and C3000HG have 6.0:1 gear ratios. Stradic 1000 takes in 31-inches of line per crank while the 2500and C3000 take in 35-inches.
The Stradic 1000HG has the capacity for 140 yards of 4-pound test mono or 85 yards of 15-pound test PowerPro. The 2000HG can handle 140 yards of 8-pound mono or 145 yards of 15-pound test PowerPro and with its larger spool on a 2500 size body. The C3000HG holds 170 yards of 8-pound mono or 140 yards of 20-pound PowerPro.
Each with 6.2:1 gear ratios, the 4000 pulls in 39-inches and the C5000 takes in 41-inches per crank. The 200 yards of 10-pound test mono or 170 yards of 30-pound PowerPro fills the Stradic 4000XG, and the large spool/400 size body Stradic C5000XG can take 195 yards of 12-pound test mono or 200 yards of 30-pound PowerPro.
Shimano Stradic CI4+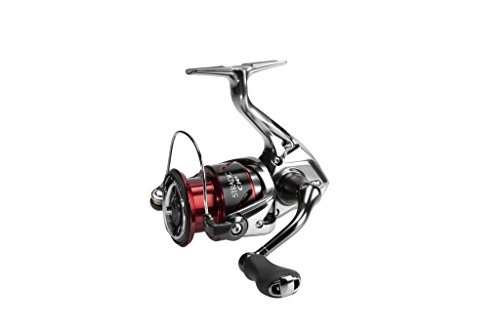 Shimano Stradic Ci4+ spinning reel was launched at ICAST in 2016. The totally re-vamped, award-winning, Stradic CI4+FB is a significant improvement over the previous range. (FM and FMLA of CI4+ series and FML of CI4 are discontinued.)
Weight has been reduced by 5 grams or more, while other operational features have been improved to further reduce the feel of weight.
The Stradic CI4+ is just under the Sustain and Stella spinning reels, which are at the top of the list.
With the addition of X-Ship in the current Ci4+, the reel has become tougher. The prior model had some "toughness" issues which on paper have been resolved by the current model Stradic Ci4+.
Specifications
The new Stradic CI4+ are even more responsive, lighter and reliable. The new asymmetrical shaped Magnunlite (MGL) rotor improves reel performance due to its lighter weight and easier rotor rotation start-up. The bail trip lever is moved to opposite side of the roller, giving anglers a more rigid, durable rotor assembly.
The Hagane Gear is also added in upgraded Stradic CI4+ reels like Metanium & Curado casting reels, and Stradic FK & Socorro SW spinning reels.
Shimano's Core Protect feature adds to Hagane durability to provide water resistance without creating heavy rotation feel when retrieving.
Shimano's G-Free Body has shifted the reel's center of gravity closer to the rod. Hence, Anglers will experience more fishing comfort and less fatigue so you can enjoy a long day on the water.
These CI4+ reels also feature X-Ship for increased gear efficiency and power for a smooth retrieve. The light, yet durable titanium bail wire offers better corrosion resistance than stainless steel.
You can use larger CI4+ reels to target redfish, bonefish and other inshore saltwater pursuits.
Some people are concerned by the lack of a reverse gear but don't be, believe me, you will soon forget about this feature. Not to forget, they have only caused issues before, often leading inline tangles and birds nests as the reel would unwind uncontrollably sometimes. The reverse feature was not included in the reel because Shimano wanted to reduce the weight as much as possible with this design.
What Size suits you?
The upgraded Stradic CI4+ line-up includes the STCI4-1000HG, STCI4-2500HG, STCI4-3000HG, and STCI4-4000XG.
Model
Power Line Cap
Mono Line Cap
Weight
(Oz.)
Max Drag
Line
Retrieve
Gear Ratio
Prices
STCI41000HGFB
10/95
15/85
20/65
2/270
4/140
6/110
5.6
7
31
6.0:1
Check Price
STCI42500HGFB
10/150
15/145
30/100
6/200
8/140
10/120
6.7
20
35
6.0:1
Check Price
STCI4C3000HGFB
10/200
20/140
40/105
6/230
8/170
10/140
6.7
20
35
6.0:1
Check Price
STCI44000XGFB
15/280
30/170
50/150
8/240
10/200
12/160
8.1
24
39
6.2:1
Check Price
The 1000HG, 2500HG and C3000HG reels have a gear ratio of 6.0:1, while the larger 4000XG size has a 6.2:1 gear ratio.
For lighter line and finesse fishing, the 1000HG Stradic CI4+ handles 85-yards of 15-pound test PowerPro braid or 140-yards of four-pound monofilament or fluorocarbon. It cranks in 31-inches line per handle rotation.
For fishing situations in both fresh and saltwater, the 25000HG holds 145-yards of 15-pound PowerPro or 140 yards of 8-pound mono/fluoro and retrieves 35-inches of line per crank.
What's the difference in Shimano stradic ci4 2500 vs 3000? The C3000FB is a compact body version with a 2500 size body, more line capacity and deeper spool capacity. It also retrieves 35-inches of line per crank like 2500HG but handles 170-yards of 8-pound mono/fluoro or 140-yards of 20-pound PowerPro.
The 4000XG reels-in 39-inches of line per crank and holds 170-yards of 30-pound test or 200 yards of 10-pound mono/fluoro.
Best Rod for Shimano Stradic CI4+

The rod really doesn't care what reel you use. You should consider the techniques, lure weights, and water conditions (weeds, brush, open?). I recommend you to get the lightest one you can afford, with the action you want. The rod should have a reel seat/grip that fills your hand well.
With a budget of around $200, You can go with 7ft med-lite St. Croix avid inshore or 7' medium Shimano Zodias for 2500 Stradic. You can catch many redfish over 30" using 15lb braid. Great feel, maybe slightly heavier than a g.loomis. If you want to save a few bucks the St Croix mojo is also good.
Some of the best rods for Shimano stradic ci4 4000 you can choose from are:
Obviously, these rods all come in a variety of lengths, actions, and power (line and lure weight ranges).
Shimano Stradic CI4+ vs FK
Both reels have similar features in relation to bearing placement and count, waterproofing and retrieve speed. Shimano released Stradic FK in 2015 and Stradic CI4+ in 2016.
FK has a more rigid body. If you are looking for rigidity in the body and handle, then the FK Stradic is a better fit for you. Moreover, FK requires minimal maintenance and reel repairers won't see FK anytime soon. Fk is built on a much stronger frame with the tighter tolerance. It's very unlikely they will wear much through heavy use.
The big plus for the CI4+ is the weight of the reel, it just seems to balance up nicely with whatever rod you match it up to. It is 1-3 oz lighter. You can say that this reel is all about light feel and rotation, with strength in cranking power. If you are going to casting a lot of lures continuously then the CI4+ is significantly lighter and would offer less fatigue throughout the day. The Ci4 has a "magnum light" rotor which is nice for finesse fishing and lighter lures.
Conclusion & Alternatives
Both Stradic reels use a lot of Shimano's high-end technology in its design that is reflected in the price of the reels too. A beginner will certainly not appreciate just what this reel provides as far as performance goes. This is not the best option for a first-time angler that is testing the waters to see if fishing is for them.
This reel mainly targets the anglers who want more performance than their current $100 reel provides. If you understand the drag requirements you want and need, looking for a super responsive and a very light reel, Then this reel is for you!
Shimano Nasci (a graphite reel) and Daiwa BG is a great substitute if you can't afford a Stradic or you are a beginner. Both are super smooth and has most of the technology integrated into it that you will find in the higher end Spinning Reels. For a hundred dollars, they can be replaced instead of repaired like the Stradics. Although Stradics would rarely wash away even from heavy use. Any major Stradic repairs take loads of time and between shipping and labor and parts usually run a hundred bucks anyway.