Fierce Reels are one of very popular spinning reel series of Penn. This product came out in 2011, and quickly has a reputation for toughness in both fresh and saltwater, coming with a full metal body and a side plate that keeps precise gear alignment under heavy loads.
It is said that Penn Fierce offers unparalleled power and performance at an affordable price point. Its field-proven oiled-felt drag system is extremely reliable and has the strength to tame fish in the roughest conditions.
Main Features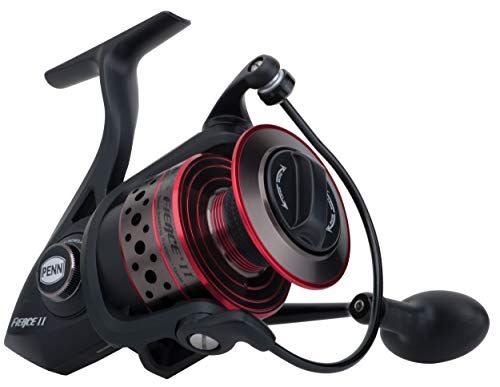 Fierce features a full metal body and a stainless steel main shaft to provide unwavering strength and durability enabling you to even chase rockfish quickly in an effective way.
The spool of rell is made up of machined aluminum and the body is anodized. It has 4 stainless steel ball bearings: two on the main gears and two on the pinion gears, plus a roller bearing under the graphite rotor. By mentioning the graphite rotor, I mean the infinite anti-reverse Techno-balanced rotor on this reel. At these price points rarely will you find a full metal reel at this quality.
| | |
| --- | --- |
| Reel Handle Position | Right/Left |
| Drag Type | Front Drag |
| Drag Material | Oil Felt |
| Ball Bearings Count | 4+1 shielded stainless steel |
| Warranty | 1 year from date of purchase |
| Features | Instant Anti-Reverse |
The "C" at end of the model number on Amazon does not stand for combo. It stands for clamshell. It's the plastic display case rather than the box.  The same reel though
As you already know, its price is very reasonable and affordable while it still has some very awesome features that make it a great Penn fishing reel. With all its stunning features above, fishermen totally believe in using this Penn reel to chase stripers and get more successes.
What Size suits you?
So if you are saltwater fishermen and you are finding out the best spinning reel for the money, let's take a closer look at different sizes of Fierce Model by Penn Reels. 
Model
Mono Cap. (yds/lb)
Braid Cap. (yds/lb)
Line Retrieve
Max Drag
Gear Ratio
Weight (oz)
Price
FRCII1000
275/2
135/4
105/6
160/6
130/8
110/10
22
7
5.2:1
7.8
Check Price
FRCII2000
240/4
180/6
125/8
210/8
180/10
165/15
30
7
6.2:1
9.3
Check Price
FRCII2500
255/6
175/8
140/10
240/10
220/15
160/20
33
7
6.2:1
9.7
Check Price
FRCII3000
200/8
165/10
120/12
250/15
180/20
130/30
35
10
6.2:1
11.7
Check Price
FRCII4000
270/8
220/10
165/12
360/15
260/20
185/30
37
13
6.2:1
12.3
Check Price
FRCII5000
225/12
200/15
135/20
420/20
300/30
240/40
36
20
5.6:1
19.6
Check Price
FRCII6000
335/15
230/20
210/25
490/30
390/40
335/50
41
20
5.6:1
21.2
Check Price
FRCII8000
340/20
310/25
230/30
475/50
390/65
345/80
44
25
5.3:1
28.4
Check Price
One of the cons is that 6000 or greater sizes of this reel have weaker gear ratio comparatively. This isn't a deal breaker if you are thinking to fight big fish long enough to know when the equipment isn't ideal. Check the alternatives at the end of the article.
Check the full guide to catching Bluefish here
Whats Extra in Fierce 2 Live Liner?
Fierce 2 Liver Liner is the baitrunner version of Fierce 2. Unlike normal 6000, The 6000LL reel has a switch that allows live bait to run freely for fishing. This added benefit of a Live Liner drag makes this reel ideal for swimming live baits. This feature provides anglers with the awesome castability of a spinner and free-lining capabilities of a conventional reel at the same time.
They come in 4 sizes with model numbers of FRCII2500LL, FRCII4000LL, FRCII6000LL, and FRCII8000LL
Model
Mono Cap. (yds/lb)
Braid Cap. (yds/lb)
Line Retrieve
Max Drag
Weight (oz)
Gear Ratio
Price
FRCII2500LL
255/6
175/8
140/10
240/10
220/15
160/20
33
7
12.4
6.2:1
Check Price
FRCII4000LL
270/8
220/10
165/12
360/15
260/20
185/30
37
13
14.8
6.2:1
Check Price
FRCII6000LL
335/15
230/20
210/25
490/30
390/40
335/50
41
20
24.2
5.6:1
Check Price
FRCII8000LL
340/20
310/25
230/30
475/50
390/65
345/80
44
25
32.1
5.3:1
Check Price
Alternatives
Penn Fierce 2 vs Battle 2
Penn Battle II has Sealed bearings, the Fierce II has Shielded bearings. The Battle 2 reels have 1 additional ball-bearing, heavier bail, HT-100 drag washers, superline spool, and some extra "Bling".
Technically, the Fierce is 2 levels lower than the Battle and the in-between model is Penn Sargus series.
However, Both reels have painted bodies (not anodized) and Dyna-balanced rotors. Spools are sealed at the drag knob. Both reels are infinite anti-reverse and feature an anti-reverse switch in the 2500 size & below. The line lay on both are excellent, and can be easily corrected with included spool washers.
if you're after landing the big fish easily and for reel sizes above 5000, you may want better max drag and gear ratio! Daiwa BG series and Penn battle 2 are your goto reels.
Read an in-depth review of Penn Battle 2 Here