If you are a big fan of fishing especially inshore fishing then you are probably familiar with the Penn fishing reels. Penn has over the years developed a wide range of fishing reels but the Penn Battle line of reels could easily be most popular with anglers.
Quick Take
These reels have been specially designed for fishing anything from trout to Barracudas. They come in a variety of sizes from the small 1000 to the bigger 8000.
The Battle II Reels are available at a very affordable price without quality being compromised. They are sturdy with soft touch knobs that make handling the reels easy and comfortable. Other features which were included in the 3000 and 4000 reels include a smooth drag and the anti-reverse feature.
Penn upgraded their reels with the introduction of the battle 2 BTLII5000 and battle 2 BTLII6000 reels. They are favorites especially for anglers because of durability and their smooth drag.
Here is some features common across all sizes of Penn Battle 2.
| | |
| --- | --- |
| Reel Handle Position | Right/Left |
| Drag Type | Front Drag |
| Drag Material | HT-100 (carbon fiber) |
| Warranty | 1 year from date of purchase |
| Features | Instant Anti-Reverse |
HT-100 is a carbon fiber fabric that's laminated on fiberglass to provide stiffness in large sheets and then cut into strips. These strips are run through a stamping die to produce washers of various sizes to complement Penn's original sizes of asbestos type washers as well as new designs.
What size suits you?
Check out the comparison between all models. (Bearings of all models are the same 5+1)
Penn Model
Mono Cap
YD/LB
Braid Cap
YD/LB
Line Retrieve
(In)
Max Drag
Weight
(Oz.)
Gear Ratio
Prices
Battle II 1000
275/2
135/4
105/6
160/6
130/8
110/10
22"
9lb
8.1
5.2:1
Check Price
Battle II 2000
240/4
180/6
125/8
210/8
180/10
165/15
30"
10lb
9.8
6.2:1
Check Price
Battle II 2500
255/6
175/8
140/10
240/10
220/15
160/20
33"
12lb
10.3
6.2:1
Check Price
Battle II 3000
200/8
165/10
120/12
250/15
180/20
130/30
35"
15lb
12.3
6.2:1
Check Price
Battle II 4000
270/8
220/10
165/12
360/15
260/20
185/30
37"
15lb
12.8
6.2:1
Check Price
Battle II 5000
225/12
200/15
135/20
420/20
300/30
240/40
36"
25lb
19.8
5.6:1
Check Price
Battle II 6000
335/15
230/20
210/25
490/30
390/40
335/50
41"
25lb
22.1
5.6:1
Check Price
Battle II 8000
340/20
310/25
230/30
475/50
390/65
345/80
44"
30lb
30.2
5.3:1
Check Price
The 8000 size spinning reel is a very large reel and has a large line capacity. The larger reels (6000 – 8000 size) are designed to fight large fish, plus with the added line capacity you can fish in depths of 100′ to 200′ and still have plenty of lines should a large fish start 'stripping' line as they make their run.
The larger reels have drag systems designed to withstand more line stripping should you hook up on a large fish.
A 1000 size reel is a very small reel with minimal line capacity. You would select a 1000 size reel if you're fishing for smaller species of fish, although some anglers have the skills to catch sizable fish using 1000 and 1500 sized reels.
Pros & Cons
Pros
It offers more support while handling heavy loads
Offers more support because of its metallic body
The line does not slip easily because of its rubber lining
Its engineered to last longer than the usual fishing lines
An instant anti-reverse feature is useful when handling a fighting fish
The techno-balanced rotor provides smooth and steady retrievals.
A strong handle with a soft-touch knob that makes it easy to use.
Maintains precision gear alignment owing to its metallic body
Cons
Some users found the reels to be a bit heavy and reported experiencing wind knots, rough retrievals, and noise after a period of use. The drag also stuck quite a lot and the bearings wore out quite easily. The spool also loosened after a while.
A closer look at Penn Battle 2 Reels of Different Sizes
Penn battle 2 2500 vs 3000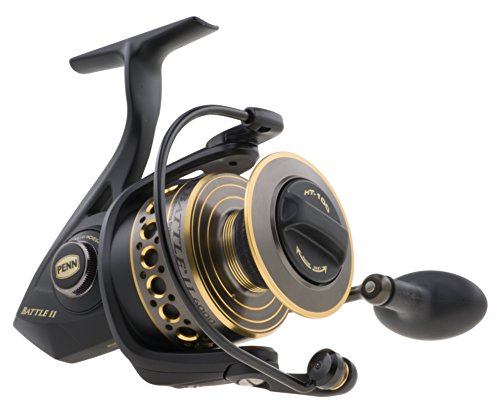 Both are Small-Sized Models. Both have the same gear ratio of 6.2:1. Battle 2 3000 has a larger max drag of 15lb as compared to 12lb of 2500 model.
Both are mostly suited for light fishing in lakes, rivers, bays, harbors etc. You can catch Bream, Trout, Whiting, Bass, Flathead, Perch and Luderick comfortably.
For the 2500 model, Suggested Braid is 5-12lb and mono is 2.5kg-4kg (5-8lb). You can use a rod in lengths between 6-7ft which have a line rating of around 2-5Kgs.
For the 3000 model, Suggested Braid is 6-14lb and mono is 3kg-5kg (6-10lb). You can pair it up with a rod that is around 6-7ft 6 inches in length which has a line class between 3Kg-7Kg. you could also use this sized reel as a lightweight blackfish reel on rods which are around 9-10ft rated to 4Kg.
Penn battle 2 4000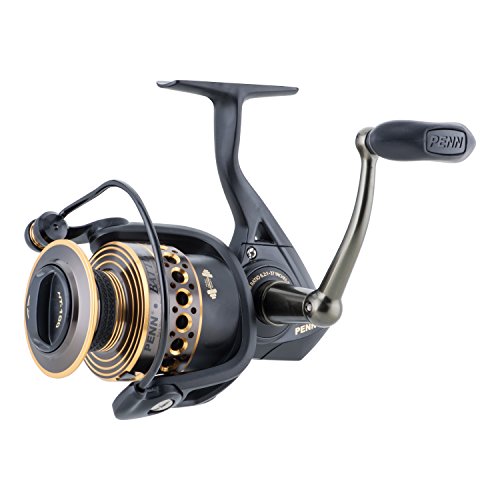 The 4000 model is considered a medium fishing reel and is most suited to lakes, rivers, bays, harbors, light offshore boat fishing etc.
This size is popular to catch Snapper, Morwong, Tailor, Mangrove Jack, Cod, Bone Fish, Barramundi, Mulloway, and Drummer.
For the 4000 model, Suggested mono is 4kg-6kg (8-12lb) and Braid is 8-20lb. This sized reel will generally suit medium action classes of rods in the 6ft-7ft (barra/snapper style rod) with a line class of around 4Kg-10Kg or in an 8ft-10ft (light surf) rod with a light line class rating of around 3-5Kg.
Penn Battle 2 5000 vs 6000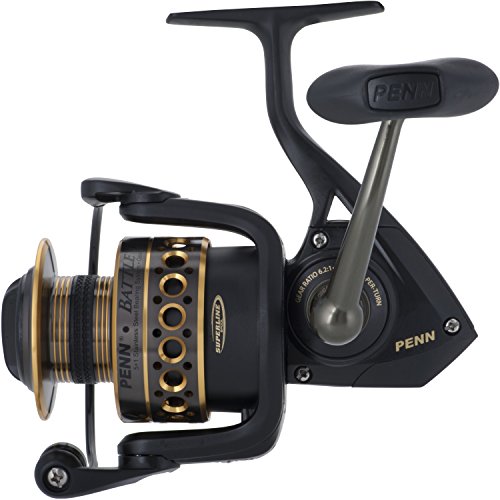 The Penn BTLII5000 released in 2014 features a techno-balanced rotor that ensures easy retrievals and makes it suitable for catching most fish types from Barracudas to catfish. It has an all-metallic body that makes it durable even in salt water and gives the reel a degree of precision. It weighs 19.80 oz and can hold about 300 yards of 30-pound braid.
Though some users find them a bit heavy, no critical flaws have been reported with these reels. Most users rate their performance as reliable. However, there have been complaints of strange noises with the Penn BTLII5000 Battle II when it is slowly pulled in.
In this reel, the old bearings have been replaced with the sealed ball bearings that offer corrosion resistance and better and smoother performance. Its other features most of which are shared with the larger Penn BTLII6000 Battle II include:
A maximum drag of 25 lb
A 5.6:1 gear ratio and a retrieve rate of 36
The Penn Battle II BTLII6000 Spinning Reels with its all-metal design, stainless steel metal shaft with six sealed bearings, and a Techno-balanced TM is an advancement of the 5000 that is larger and can hold up to 390 yards of 40 lb braid. Its other features include:
Greater mono capacity.
A higher retrieve rate of 41
A weight of 22.10 oz
Both reels can be used to catch small and large fish. The rust-resistant material used is durable and suitable for fishing in fresh and salty waters with the 6000 being especially great if you're looking to fish in the coastal waters and low country inlets. Rubber gasket on the anodized spool of the 6000 keeps the line from slipping thus eliminating any need for backing and comes ready for use with a braided line.
Comparisons
Penn battle 2 vs Spin fisher
The spinfisher is better If you are going to use it in the surf, or just soaking. It will be more resistant to water penetration when splashed heavily (think surf here) and will produce a greater lockdown drag pressure if you have on heavy braid and need to pull a fish away from the structure.
The Penn battle is good to use in the flats and throwing lures regularly. It produces plenty of drag for anything you will find in the flats and is plenty resistant to water penetration unless you plan on dunking your reels or standing with it in the surf and having waves regularly go splashing against it.
The Shimano Sahara, symmetry or stradic are also excellent options to use for work in the flats,.
The main reason people buy the battle 2 over the spinfisher is that they can't afford it. I own both and I would prefer the spinfisher in any situation.
Conclusion
The Penn BTLII5000 Battle II Spinning Reels and Penn Battle II BTLII6000 Spinning Reels are worthy investments for lovers of fishing because you are assured of great performance and reliability. Though very affordable compared to other reels and might be considered low-end, Penn hasn't compromised on quality or performance with these reels.
With proper maintenance, you will continue enjoying fishing for a long time with your Penn Battle 2 reels. In addition, great service from Penn is available whenever you have a problem with your reel so get yourself a Penn BTLII5000 Battle II or Penn BTLII5000 Battle II and enjoy fishing.
Check this article to learn how to catch bluefish