Shimano has a wide range of reels products including Spinning reels, Low profile, Surf, Conventional, Saltwater, Electric, Round. With the specifications, quality, and features, Shimano is considered as the 'Gold Standard' in fishing reels and if you try one you'll agree.
Many hobbyist fishermen have been using Shimano gears for decades!
So, what is the best Shimano spinning reel?
Let's dive in to see what Shimano is offering in spinning reels in 2018 that are really popular. (There's a lot of stuff under $20)
Company Background
Established in 1921, Shimano is a Japanese company based in Sakai, Japan. Its main manufacturing plants are located in Kunshan, China, Malaysia, and Singapore.  Its manufactures fishing tackle, cycling components, and rowing equipment. It also has been producing golf supplies and snowboarding gear in the past.
Shimano offers a wide variety of fishing products including reels, rods, line, lures, as well as accessories, clothing, and electronics. Their spinning reels are the most popular among the fishing reel product line.
Shimano Spinning Reels Comparison
With a lot of spinning reel with different features and specifications, It may be difficult to choose which Shimano model is best suited for your fishing needs. You will learn about the unique features of reel models and styles, as this review provides an in-depth look at the top-rated Shimano spinning reels. We'll guide you to choose a suitable Shimano reel to add to your angling arsenal.
The table compares the different Shimano spinning reel models and their different specifications range and features.
Only IX4000R, IX2000R Clam & Baitrunner reels are Saltwater. Others are Freshwater reels
Quick Checklist to help you choose one
Gear ratio is the number of times the bail rotates around the spool during one rotation of the handle. A higher gear ration is recommended for lures that require fast retrieves. A gear ratio of 6:1 is regarded as fast, while a 4:1 is considered slow. The reel with a 5:1 ratio is a good all-around reel.
Ball Bearings: More bearings means your spinning reel has smoother retrieve. The 5  bearings are ideal as you'll get enough smoothness at an affordable price. The "+1" indicates the needle bearing that is for the infinity anti-run-back purpose providing more comfort during striking.
Line retrieve number indicates the speed at which you can retrieve the line back that is an added advantage for some types of fishing. (Inches of the line you get back on the spool, for every full turn of the handle)
Drag power indicates the amount of pressure the hooked fish endures when it pulls on the rod. It enables the line to withstand resistance from the fighting fish. The better drag power saves the rod from splitting away during the tussle.
Drag Systems: front or rear drag? Front-drag features multiple, large drag washers that provide better performance than rear-drag models. Although rear-drag doesn't stand up well to hard fighting fish, their controls are easier to access.
Reel body can be made of graphite or aluminum. Aluminum housing is stronger and lesser flexible; however, graphite is lighter in weight. The highest quality freshwater reels are built of aluminum. However, if graphite is the way to go for the saltwater fishing field due to its corrosion-resistant qualities.
Top 9 Shimano Spinning Reels – Reviews
1. Shimano IX4000R: Cheapest, Best for beginner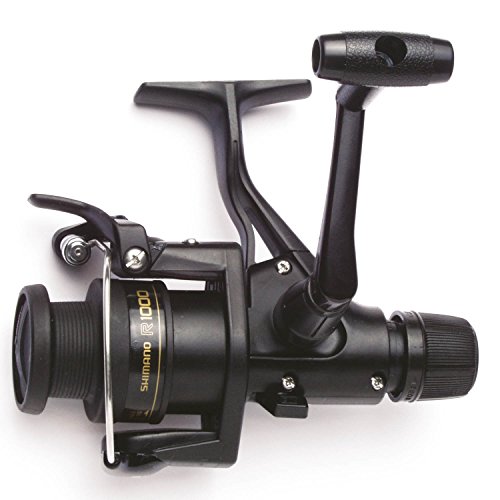 Its frame, side plate, rotor, and spool is made up of graphite. Hence, they don't tarnish when used in salt water as quickly as many metal reels. You can use it with Mono, Fluorocarbon and PowerPro lines.

The spoon with a gear ratio of 4:1 provides excellent spinner retrieval in moving water. By choosing the proper weight of the lure, you will be comfortably running spinners like panther martins as intended or can get the right action on a spoon such as a krocodile.

A good little reel especially for beginners. You will also not be worrying about damaging it because it's so cheap (under $20). One of the cons is that this reel is very slow meaning retrieving a lure seems to take forever but that's not all bad depending on the type of fishing you do.

Click here to check Latest Price
2. Shimano IX2000R Spin Reel Clam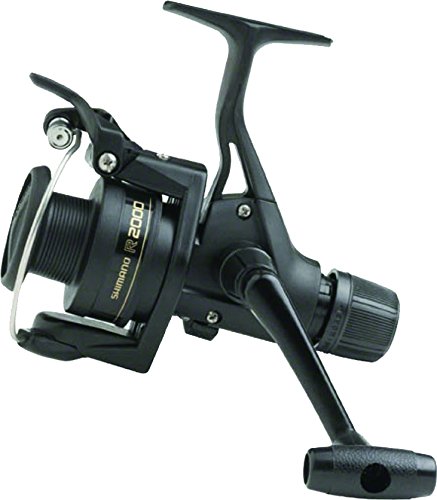 Another saltwater spinning reel with a really cheap price (under $20)

With trigger cast system feature, you don't need your other hand to open the wire bail in order to cast. You can simply pull on this trigger while holding the rod/reel. The wire bail lifts on its own, simply cast, and wind up leading to bail returning to reeling function. This enables you to cast more frequently and with less effort, making it perfect for casting out lures.

Some customers did not like the "slack" feature that ensures the right positioning of the trigger. After casting and reeling your lure, reel slightly moves backward to reposition the trigger back to your index finger ready for casting.

Click here to check Latest Price
3. Shimano Stradic FK Spinning Reels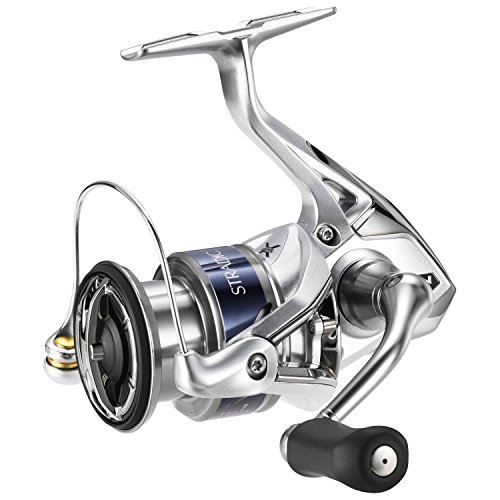 A great reel to use with drop shots, shakey heads, and other small finesse fishing lures for bait, trolling, or bottom fishing. Its lighter weight makes it ideal for light bites from bass and other fish species.

Stradic FK features visual design from both the Stella FI and the Saragosa SW models. It has sharp silver and dark blue colors that match the larger Saragosa SW, and the lines and sexy shape of the Stella.

Check a Complete review about Shimano Stradic Reels Here.

Click here to check Latest Price
4. Shimano Spirex RG Spinning Reel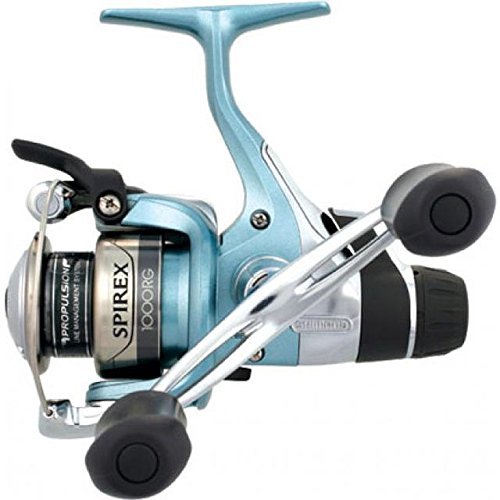 This reel also provides smooth action and drag, hardly any wobble even when reeling fast. With the max drag of 9 pounds, 5 ball bearings and a gear ratio of 5.7:1, this graphite reel weigh only 14.5 ounces.

It features quickfire trigger stop at the top of the reel that enables you to use 1 finger for easier casting. However, the handle backpedals before it stops that is not liked by some people.

Click here to check Latest Price
5. Shimano Syncopate Spinning Reel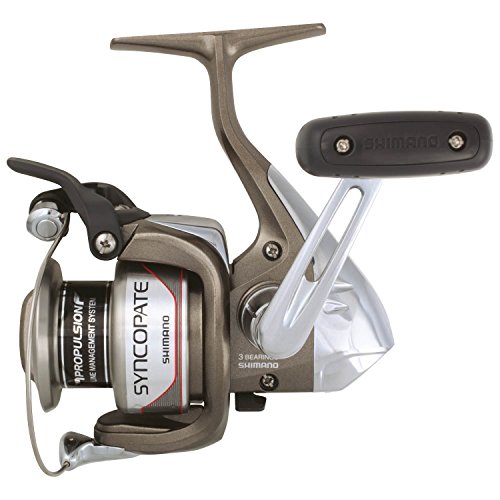 You get the efficient performance of reliable Syncopate spinning reel at an incredibly affordable price. Its one-handed faster casting makes it not only the favorite of seasoned anglers but also perfect for beginners to open-faced reels. You can cast on longer distances without any wind knot and backlash in the reel.

This reel does not feature instant anti-reverse, as it is not needed in this type of reel anyways. Having instant anti-revers will not allow the trigger to stop where it needs to (near the rod). By simply keeping your hand on the crank, you can lightly tighten or slacken the line as needed to lure the fish to strike and bite. Its designed to stop when the bailer is aligned so you can get a finger on the bail lever for super fast cast action.

Click here to check Latest Price
6. Shimano Sienna FE Spinning Reel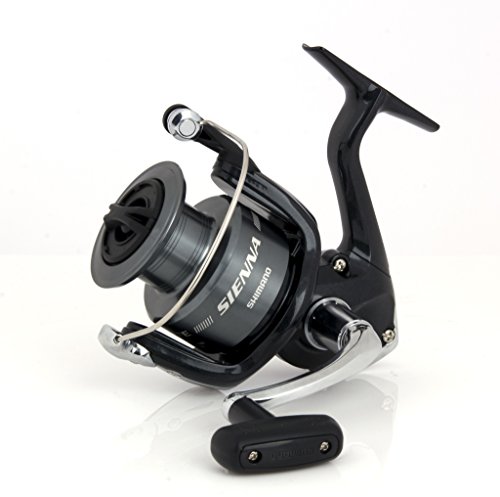 Sienna spinning reel provides a wide range of improvements and upgrades in features. You can use it for everything from freshwater to inshore fishing.

A median gear ratio of 5.0:1 makes it a good all-around reel. however, it has only 1+1 bearings making it a major downside of this reel as some other reels feature considerably more BBs within the same price range.

Click here to check Latest Price
7. Shimano Stradic Ci4+: Best Rated & Expensive most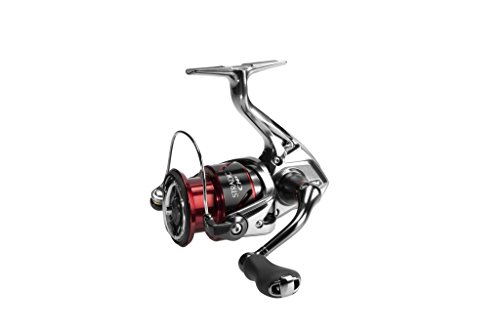 Launched in 2016, Shimano Stradic Ci4+ is best lightest spinning reel. The lighter weight and easier rotor rotation start-up of new asymmetrical shaped Magnunlite rotor have significantly enhanced the reel performance. These upgraded Stradic CI4+ reels also feature Hagane Gear like Metanium & Curado casting reels, and Stradic FK & Socorro SW spinning reels.

With minimal friction between the gear and spool shaft, this reel provides improved casting performance for longer distances.  It provides reliable features and smoothness equips anglers with the needed strength for both offshore and inshore pursuits.

You can use 1000 or 2500 size for trout fishing as both are very lightweight with no significant difference except line capacity.

Click here to know in detail about Shimano Stradic Reels

Click here to check Latest Price
8. Shimano Baitrunner D Spinning Reel
You will find many cheaper baitcasting reels but it's hard to compare Shimano Bait Runners with anything else in terms of quality. You absolutely get what you pay for with these reels. They are well worth the extra money. You are investing for the next 20+ years.

This reel has a "bait runner" feature that allows you to drift bait or live line with a light drag. You can use a knob at the back of the reel to control the tension on this drag system that is independent of the main drag. The "auto return" feature lets you switch to your main drag setting with a little turn of the handle or the push of a switch, also present at the rear of the reel.

The clickers of this reel are the louder by a fair amount than any of spinning reel including all of the Penns and okumas.

Click here to check Latest Price
9. Shimano Baitrunner OC: Best Rated & Great reel for surf fishing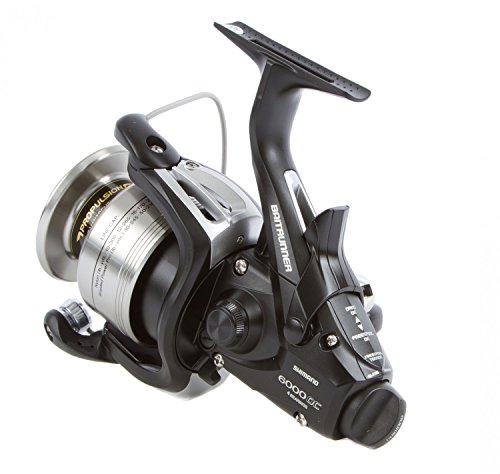 It is a great reel for saltwater fishing from snook to grouper and tarpon. You can use the larger size of this model for deep water fishing.

As compared to the D model, this reel has a better finish and durable drag system. The bait runner feature of the newer model engages in the opposite direction.

It is not suitable for bass fishing, as it would be an overkill and the reel is heavy.

Click here to check Latest Price
Which Size of these models to use?
You choose the size of a fishing reel based on the weight of the targeted fish.

An Ultra Light 1000 – 2000 sized fishing reel is recommended for fish that weigh up to 2 kg.

A Light 2500 – 3000 sized fishing reel is recommended for fish between 1 – 4 kg.

A Medium 4000 sized fishing reel is recommended for fish ranging from 2 – 6 kg.

A Medium Heavy 5000 sized fishing reel is recommended for catching fish ranging from 4 – 6 kg.

A Heavy 7000 sized fishing reel is recommended for catching fish of 8kg or more.

So what you have finally chosen? Tell us in the comments about your fishing experiences 🙂