Daiwa has a wide range of spinning reels. It may be difficult to choose which Daiwa model is best suited for your fishing needs. This review will take an in-depth look at the unique features and specifications of top-rated Daiwa spinning fishing reels, providing a valuable fisherman guide to add a new Daiwa reel to their angling arsenal.
Daiwa has huge product line in spinning reels that includes Exist, Certate, Luvias, Ballistic® LT, Tatula® LT sterling silver (limited edition), Tatula® LT, Saltist back bay® LT, BG, Ss tournament® long cast, Fuego® LT, Exceler® LT, Rg-ab, Eliminator, Legalis® LT, Revros® LT, Laguna®-5bi, Crossfire,  Sweepfire®, D-spin ultralight, Strikeforce®-b.
We have shortlisted and reviewed the best and in most demand out of them.
Daiwa Spinning Reels – reviews
1. Daiwa Mini System Minispin Ultralight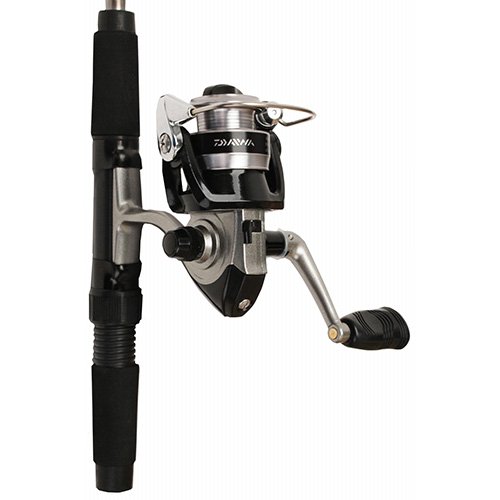 This Rod-Reel-Case combo is the most popular Daiwa spinning reel brand among online customers and has most reviews. You will surely prefer this reel over other brands like Abu Garcia, St. Croix, Shimano, and Penn.
For the price point, this is comparatively a great buy. Super small and compact. You can stow it away in a camel backpack or simply anywhere because of the small size case. Enough said this is a must-have in your arsenal of fishing gear.
This small rod and reel combo provide excellent performance. Use this Rig for catching Blue Gill's and Tommy Cat's from a local Lake or Pond and you have hours of fun. Check price here
If you feel that the reel is a little stiff, squirt a little WD-40 lubricant into it and get it instantly work like brand new again.
There are some customers complaining about the reel and case being broken down after 3-5 casting. This mini-system Combo is best for ultra-light Fishing, Don't go hard with this kit. The Plastic Carrying Case Clips are to be opened with one Thumb Pressing on the Top of the Hinge while you unsnap the Clip with the other hand. Open the Case this way and the Clips won't break off.
I would recommend this to any Angler who is interested in Ultra-Light Fishing.
If you want a Stronger Case, purchase a Plano Fishing Pole Case. For a quality Mono Line, You can consider All-Time Favorite STREN His-Vis Gold 4 Pound Test Mono Line. The His-Vis Gold Line and the Black Rod & Reel looks Awesome. The Action is amazing and you get an incredible fight from something as small as a 15″ Rainbow Trout or a 1 or 2 lb. Largemouth.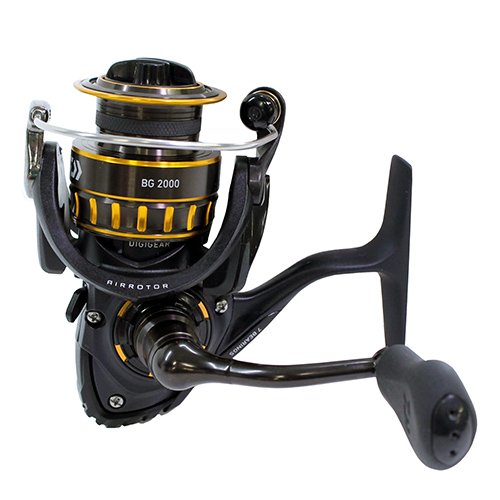 The best value for a high-quality reel in the market! The under $100 BG reel built better than any reel under $250. You will find them even better than Stella, Saltiga, and Stradic.
It is designed and manufactured very nicely, and the specifications suggest it will provide years of honest service. It shares many of the features of Daiwa's more expensive spinning reels, such as tough threaded handle (just like Saltiga), Genuine stainless NMB bearings (just like Stella), Air Rotor (but in 'Graphite', not 'Zaion'), rotor brakes (to stop the rotor turning when the bail is open) and fantastically smooth carbon drag system; although it misses out on Air Bail. To top it all off, they look awesome.
You can handle bigger species with confidence using this reel as it feels smooth and steady. Get in-depth details ad comparison of different models of Daiwa BG Series reel here
3. Daiwa Df100A Giant Spin Reel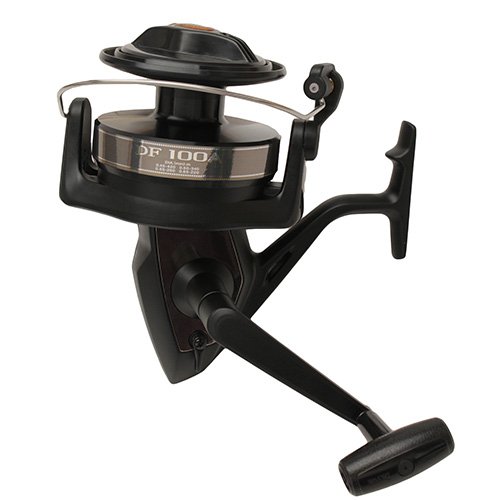 This giant saltwater reel is best suited for catching a monster fish. The pros of this reel are metal construction, ruggedness, spool capacity, and line strength. The cons are single bearing, drag knob is slightly jerky, and crank clicks if anti-reverse is engaged.
If you are planning to battle a large catfish or saltwater fishing from a beach or pier, this reel serves best for the purpose. The main shaft is made up of stainless steel and the lightweight spool is manufactured of aluminum. Both are fully anodized providing excellent resistance to corrosion. With a weight of only 30 oz. and a gear ratio of 3.4:1, this metal reel is equipped with multi-disc drag, reliable gears, and a stainless steel ball bearing system. . Check the price here.
4. Daiwa Revros Spinning Reel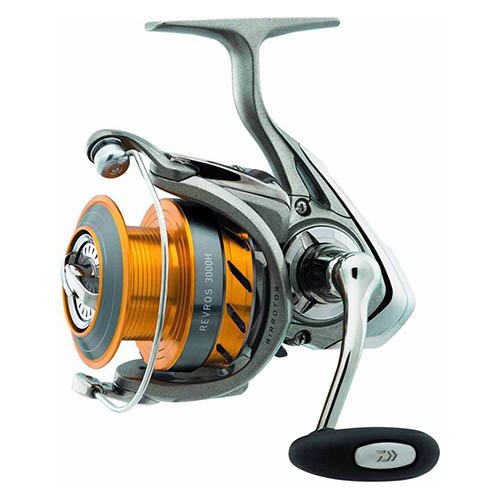 This is a great reel to use for Ultra-Light to Medium applications. I recommend if you only have a budget of under $50-100. It comes in 4 models: REV2000H, REV2500H, REV3000H and REV4000H. Check the price here
Features include Air Rotor for greater sensitivity, Body cover & Rotor, Composite body, Digigear digital gear design, 8 Bearing System (7 BB + 1 RB) and ABS Aluminum spool. However, it is not a good choice for salt water.
Other recommended spinning fishing reels are Daiwa Crossfire Front Drag and Regal Bite & Run Saltwater
Shimano vs Daiwa Spinning Reels
Daiwas offer superior casting distance as compared to the Shimano Spinning reels. However, Shimano has much smoother drag.
So, which Reel you have chosen and are going to buy? share your views in comments. Also, share the article with your social circle.