Daiwa Black Gold BG Spinning Reel Series is quite possibly the best value for a high-quality reel in history! You may not believe this quality in $100 reel.
These affordable reels are built better than anything under $250. Huge gear, tough threaded handle (just like the Saltigas), Genuine stainless NMB bearings (just like my Stellas), all-metal body and rotor, a fantastically smooth drag, a braid-ready spool and roller, and to top it all off, they look awesome.
The Daiwa next generation of BG spinning reel series comes in 10 models ranges from ultralight freshwater actions to heavy big game saltwater models. The three gear ratios of models range from a 1500 all the way through an 8000 which means that you can find the right size for almost all of your fishing needs.
The BG2500 fits 300 yards of 15# braid and is my go-to heavy freshwater / light inshore reel. The BG3500 fishes 300 yards 20# braid perfectly for most inshore fish. The BG4500 fishes 350 yards of 40# braid and handles school tuna, dorado, sails, and yellowtail with its awesome smooth drag.
Check out the comparison between all models. (Bearings of all models are the same 6+1)
Daiwa BG Features
Black Anodized Machined Aluminum Housing ("Hard Bodyz" Body & Side Cover)
Daiwa BG is equipped with a machined aluminum body and body cover providing strength and internal part stability. To increase the strength in the form of corrosion and scratch resistance, Daiwa has Black Anodized the body and body cover. The anodization process allows for better adhesion to the aluminum and will not chip or peel like a painted surface, extending the brilliant look of the BG spinning series.
Over-sized DIGIGEAR™ (DIGIGEAR™ System)
Daiwa BG spinning series have integrated the largest drive gear in the history of Daiwa spinning reels. The benefit to having this oversized gear increases gear-tooth contact points, this provides smoother and extended gear life as well as more power and increased torque.
Solid Screw-In Handle
Daiwa's Screw-in-Handle design provides zero movements or play between the main gear and handle arm. This lack of movement offers the angler both confidence and control when rotating the handle.
Air Rotor
The Air Rotor weighs up to 15% less than ordinary rotor designs. Its unique shape reduces unnecessary weight while distributing stress more evenly throughout the rotor for maximum strength.
ABS Spool
The ABS spool's maximized core diameter and reversed taper mean 100% usable line. No "dead" line buried in a deep core. You can fill it with the line right up to the edge of the spool lip without fear of tangles. ABS cause less casting friction for longer and easier casting. The huge spool diameter line flows freely in larger coils and produces less line memory coil. Smaller spool diameter means line flows in tighter coils as well.
Other features include
Waterproof Drag System
Carbon ATD
Machined Aluminum Screw-In Handle
Manual Return Bail (4500 and Larger)
6BB+1RB
Infinite Anti-Reverse System (4000 and Smaller)
Infinite Dual Anti-Reverse System (4500 and Larger)
Product Line of Daiwa Black Gold BG Spinning Reel Series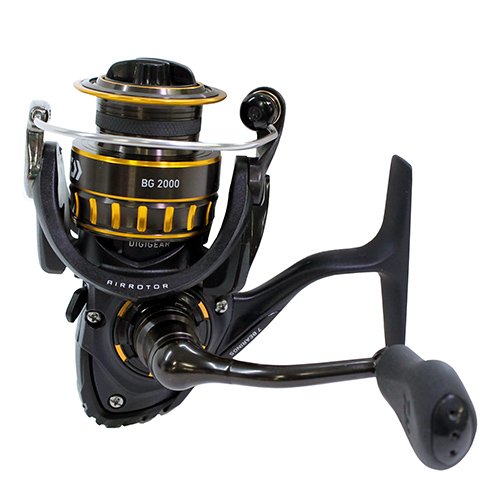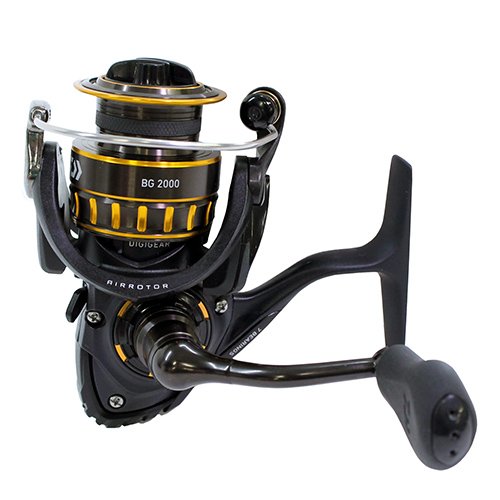 Daiwa BG 2500: Best size for bass fishing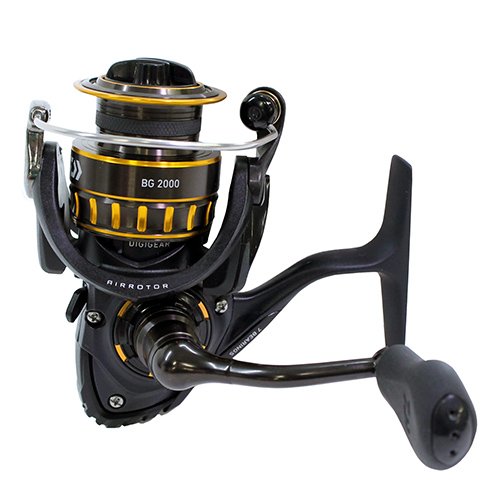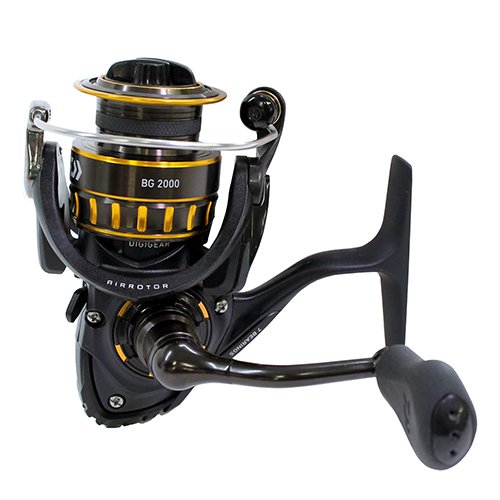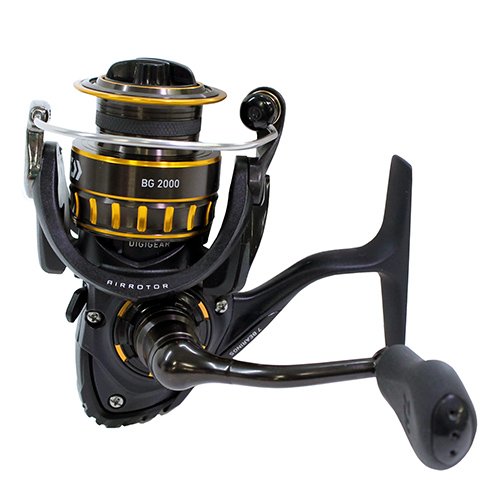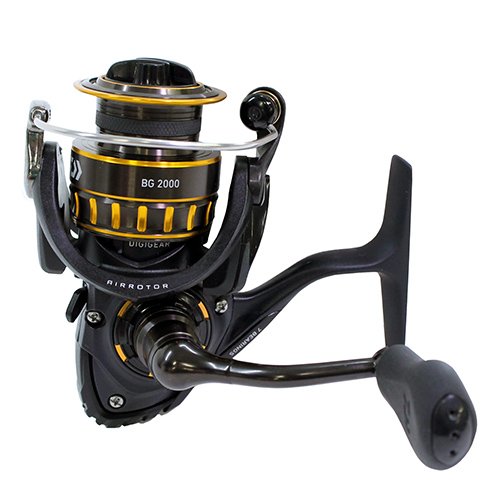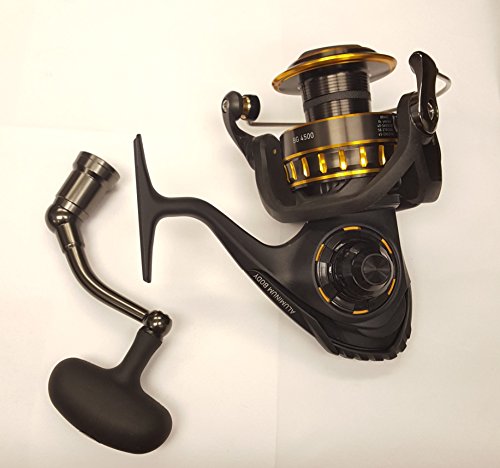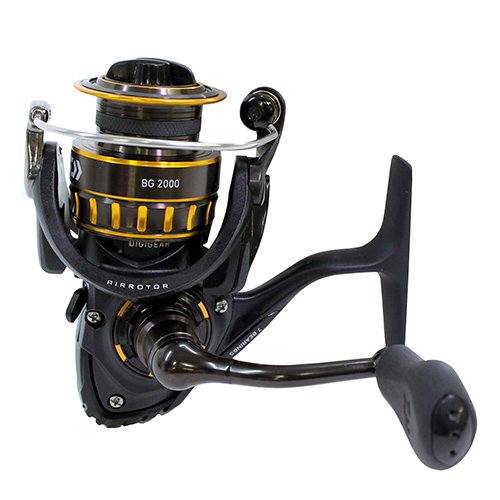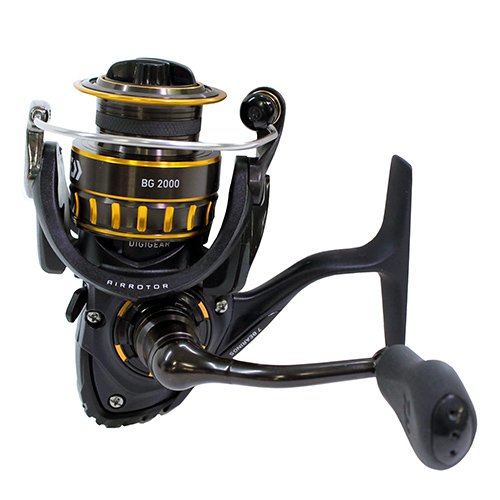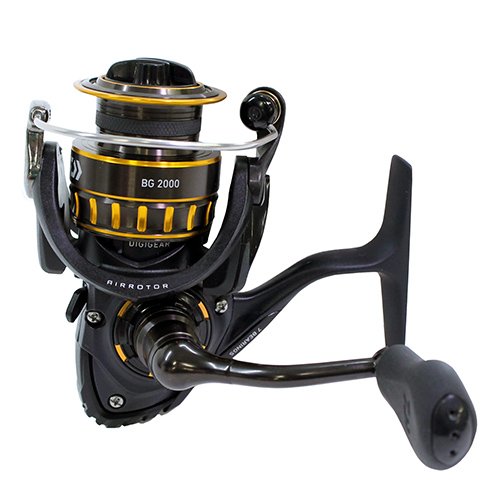 Conclusion
Daiwa Series offers the best value for the money and a lot of options given the range of reel sizes. The best feature of this reel is that you can just remove the bail trip ramp to make it a manual. These reels come with one-year factory warranty. You can fish Sailfish, wahoo, trout, blackfin tuna and Mahi on these slick reels. You can use it for everything including saltwater and freshwater.