If you grow plants indoor, You definitely need a grow light. Plants can not thrive without the right kind of lighting.!
The problem is that you will find hundreds of LED grow lights on the market, and not all are created equal. The question is, which ones?
You may not have an outdoor space, or you live in a cold region with a short growing season, But it will not stop you from indoor gardening if you invest in an efficient LED grow light.
So, what led grow light should you buy?
Read our full guide to choosing the right LED light that fits your requirements. We have compared and reviewed the top brands and popular products for you.
Best Led Grow Lights on the Market – Comparison
Here we have listed the best LEDs manufacturer brands that are popular and trusted in the market. The following table compares the LED Lights on the basis of models, warranty and other features.
LED Grow Lights
Life Span
Power (in Watts)
Warranty
Price
Taotronics
Most popular Product
50, 000 hrs
12, 24, 36
1 yr
Check Price
Roleadro
Popular Brand
50, 000 hrs
45, 300
2 yrs
Check Price
MarsHydro
50, 000 hrs
240, 300, 480, 600, 720
1 yr
Check Price
King Plus
100, 000 hrs
600, 800, 1000, 1200
3 yrs
Check Price
Viparspectra
100, 000 hrs
300, 450, 600, 900
3 yrs
Check Price
iPower
50, 000 hrs
12, 24, 45, 300
2 yrs
Check Price
BESTVA
100, 000 hrs
800, 1000, 1200, 1500, 2000
3 yrs
Check Price
Advanced Platinum
100, 000 hrs
300, 450, 600, 900
5 yrs
Check Price
Are LED grow lights any good?
LEDs (Light-emitting Diodes) are growing in popularity against the decades-old players such as HID, High-Pressure Sodium, and Fluorescent to replicate the sun's rays in an indoor garden. LED is a clear winner with its upsides in HID vs Fluorescent vs LEDs comparison.

The main advantages of LED, over the traditional light sources, includes significantly reduced heat emission and power consumption. As LED light produces less heat than their counterparts, more energy effective and much easier to keep cool and maintain.

If you skip white light and stick with red/blue LEDs only, as these emit specific wavelength most suitable for photosynthesis. This way you can save a lot of money on electricity cost. The LEDs also last substantially longer than any other types of light.
Things to consider before buying LED grow light
You will find a wide array of LED lights available in the market ranging from $10 to $2000. So, decide according to the following factors.
What is the power consumption of the LED grow light?
The amount of energy/power drawn by Led lights is determined by the period that you keep the lights on. The longer you keep the lights on, the more power they use.
LED lights are available in a variety of wattages such as 200W, 600W, 1200W. (The more power that a particular LED light draws, the more expensive it is)
Here, we have reviewed and compared different brands of LED lights w.r.t wattage
How is the surface area of the garden that you need to cover?
In the majority of cases, the manufacturer of the LED light mentions the coverage area of the product.
The general rule is that for every foot you should have around 32 watts LED coverage, but you could get away with less (11 & 18 watts per square foot) for Low-light plants like lettuce. So you also need to consider what you're growing! The area of coverage matters, not the number of plants you are growing.
It is always important to know the ideal coverage of LED lights for the best results. To achieve the best coverage, you can also place the LED lights adjacent to each other.
Phases of plant growth?
A full spectrum LED grow light is the perfect product for the full growth cycle. It has the necessary qualities to produce the best light for plant growth from seedlings to flowering.
What does PAR efficiency mean?
Photosynthetically active radiation or PAR is an electromagnetic spectrum area that is necessary to promote photosynthesis. The PAR is usually between 400 to 700 nm.
What kind of feature do you want?
These include things like dim-ability, spectrum control, timing, schedule controlling etc. Adding these features generally means more money.
What is the angle of the LED lens?
The LED bulbs have an angle of dispersion, and it is always best to look out for it. In ideal situations, you should always look for greater angles because they mean better coverage. Low dispersion and direct light characterize lesser angles of LED distribution, and it is not always ideal for plant growth.
What is the warranty of the LED Light?
Different manufacturers provide a different warranty.
And even though certain factors determine the lifespan of a particular LED light such as humidity inside the grow room, LED light should last a considerable amount of time. There are certain factors such as efficiency in cooling and low energy consumption that increase their lifespan more than other types of light such as fluorescent and HID.
However, LED light should always come with a warranty to protect you against defects, and low-quality products. Ideally, the longer the warranty period, the better it is for the buyer.
What is Your budget?
It is also essential to determine the amount of cash you are willing to spend. In ideal situations, avoid going for the cheapest products on the market.
Click here for a more detailed guide on how to choose Best Grow Light
Top 8 Led Grow Lights – Reviews
Undoubtedly, there are numerous brands of LED grow lights on the market, and most of them are of good quality.
We are listing and reviewing LED grow lights from reputable manufacturers who have extensive experience in research, design and manufacturing LEDs. Their high ratings and positive customer feedback speak for themselves.  You can use these grow lights in hydroponics systems and aquaponics systems with great results.
This is the most popular LED grow lights for hydroponics on the market.
Available Power (in Watts): 12W, 24W, 36W
Input Current: 300mA, 500mA, 650mA
LEDs Bands: 3 Red 660nm, 6 Red 630 nm, 3 Blue 460nm
Suggested Height: 1.7-5ft
Coverage Area: 0.6-5.46 square foots
Input Voltage AC: 85-264v
Socket Model: E26
Lifespan Up to 50,000 hours
There is a 12 month manufactures warranty which is extended by another 6 Tao Tronics 24W grow light months if you register your new purchase online.
The 12W TaoTronics uses 8W and the 24W TaoTronics LED Grow Light uses 15W. It would make little or no impact on your power bill even if you run it 24 hours a day.
With 4.9 feet x 3.3 The LED light has good coverage
The ideal height for the LED is between 1.7 ft and 5 feet from the plants
In the majority of the cases, this LED light fits into a regular bulb socket. For example, 24-watt bulb fits comfortably into the socket. However, you are free to purchase brackets if you prefer hanging the grow lights. Even so, the lights are easy to set up and use.
You can use it for hydroponics, aquatic plants, flowers vegetables or herbs.
Some people reported that their vegetables have grown twice as fast when using a grow light as when grown using a full spectrum light – sunlight is full spectrum light. That's pretty amazing.
Some users of the grow lights reported that their plants grew twice as fast as when using a full spectrum light.
The LED light is cheap in the long run. It is more energy effective than fluorescent lighting, and it demands less maintenance which significantly reduces the cost of running the grow light.
You can rapidly improve the health of your hydroponics by using the LED grow light. In most cases, noticeable changes are apparent within two weeks of using the LEDs frequently, which in most cases is daily.
Check the detailed review of Taotronics LED Grow Light here
Prices on Amazon:


2. Roleadro 300W LED grow lights: Most Popular Brand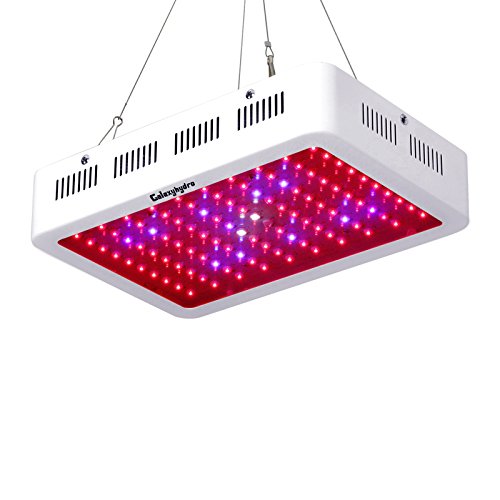 Actual Power: 132w (±5% watt)
Max Coverage: 2.5ft x 2.5ft
LED Chips: 3W Epileds
Input voltage: AC 85-265v
Frequency: 50/60 HZ
Lifespan: 50,000 Hours
Dimension: 12.1×2.4×8.2 inch
The best selling 300w grow light! Almost no 300w of grow light of any other brand can beat this, as endorsed by high satisfaction ratings by customers on Amazon. It is lightest most in all 300w LEDs.
Moreover, it comes with two fans (other LEDs usually have only one) to keep the temperature in a comfortable range. It features UV & IV lights which are generally not found in most of the lights in the market. Even though built in China, they carry the same quality standards as most lamps we've seen that are the USA made.
It replaces traditional 400-watt HPS/MH with an impressive consumption of only 130 watts. At 24″ height, It can cover 3ft x 3ft of your growing area. Since it does not have on/off button. Investing in mechanical timer will save you from a lot of stress! (Don't use digital one as led will glow with digital timer even when lights are off)



Pros
Best 300w LED light in the market by feature and value by money
Lightest in weight makes it easy to hang and handle
Two fans to keep the temperature in control (also includes an internal aluminum heat-sink and a unique internal temperature controller)
LED bead & zener design to avoid any burnout
Equipped with IV and UV lights
Excellent Customer Service
Cons
No on/off switch. It is best to buy a timer.
No veg or bloom switch.
2.5-yrs of warranty which is less as compared to 5-yrs by Advanced Platinum and 3 yrs offered by Viparspectra.
Being built in China may question its quality but it's not a case
A few bucks expensive than Marshydro but worth it
3. Mars Hydro 300w Grow Light
Actual Power: 132w (±10% watt)
LED Chips: 3W Epileds
Max Coverage: 2ft x 2ft
Lifespan: 50,000 Hours
Dimension: 12.1×2.4×8.2 inch
Warranty: 1-3 years
Mars Hydro is a Chinese led grow light manufacturer in market since 2009. There have up to 5 repair centers and warehouses located in the US, Canada, UK, Germany, and Australia.
Its a few bucks cheaper than Roleadro 300w, but it misses out on UV and IR lights. It replaces typical 150W HPS or HID grow lights while consuming the only 132watt. It covers a growing area of 2ft x 2ft.
Cons
Doesn't have UV and IR Lights
There have been some cases of LEDs burnout
There's no veg/flowering switch unlike Advance Platinum and iPower
Warranty is inconsistent 1-3 year
Click here to check prices on amazon
4. King Plus 1000w Grow light
Actual Power: 185 Watts
LED chips: 10W Epistar LEDs
Coverage Area: 3.4 x 3.8 ft
Lifespan: 100,000 hours
Dimension: 12.2 x 8.3 x 2.4 inches
Warranty: 3 years
One of only two 1000w LEDs which made to our best grow lights list! It consumes only 185 watts of power and replaces the 600-watt HPS.
The electricity consumption is 0.185kW·h per hour. Last time I checked, it was also a few bucks cheaper than Bestva 1000w.
If you have a larger grow area, you can consider this light as it covers 3.4 x 3.8 ft or more easily. They protect each product with an impressive 3-years warranty to provide you security over your purchase.
In our opinion, this LED grow lights is an excellent investment for everyone considering to venture into indoor growing, whether as a hobby or as an enterprise.
Pros
3-years of warranty
The lifespan of 100,000 hrs
10W Double Chips: They are more efficient and brighter than conventional 3W and 5W LEDs.
Efficient cooling system: the thickened the led board (ours:3.0mm, others:1.6mm), For effective heat dissipation, the LED light comes with two fans.
Quiet fans will not disturb you!
LEDs are 90/120 degrees mixed. Greater the angle, more is the coverage!
The quality of customer service is excellent, and they make it their duty to reply to every query in the shortest time possible. Usually, they send a response within 24 hours, which is quite excellent.
Spectrum also includes IR and UV making it one of the best LEDs for all growth stages including vegetative and flowering.
It's lightweight and handling it is quite effortless.
Cons
Not water proof; however, it is very tolerable to high humidity.
Does not have veg and grow switches, although this light is appropriate for all stage of the plants.
LEDs Angle: 90°
LED chips: 5W Bridgelux and Epileds
Lifespan: 100,000 hours
Warranty: 3-years
Product Line: Reflector, Dimmable, Timer control Series
Extra Features: 4.72" fans, hanging kit, power cord
Viparspectra has widest range of LED grow light products having almost every standard wattage and different features. The most popular lights of this manufacturer are Reflector 300w, Reflector 600w and Reflector 450w. We recommend choosing between 600w or 450w. why? Continue reading!
Reflector-Series offer built-in reflectors that direct all of the light down towards your plant canopy instead of scattering it around your grow room or tent.
What distinguishes Viparspectra from other brands is that their products have efficient internal cooling fans and heatsinks to keep the LED grow lights cool.
Moreover, it has 3-years of warranty which endorse its quality products. Check a comparison of these three to help you choose light what suits you.
Pros
Lifespan is 100,000 hrs which is double as compared to other lights
Range of products, features and options available under one brand
Built-in reflectors
The 600 & 450 watt lights comes with a veg switch and bloom switch. The 300 does NOT.!
Cons
Reflector 300w does not come with switching.
Reflector 300w has only fan while Reflector 450 & 600w has two fans.
It has infrared but not UV
We have just covered the popular series of Viparspetra here. It also has series that offer dimmer, PAR and time control features. Read the detailed complete review of Viparspectra product line here
Check Prices on Amazon:


6. iPower GLLEDXA300CNEW 300W grow Light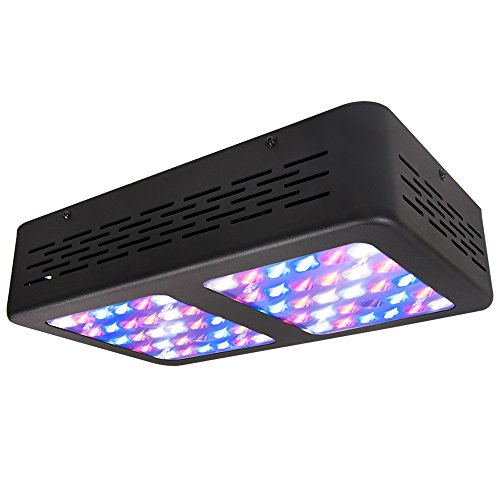 Power:
300 Watts
LED Chipset: 3 Watts
Number of LEDs: 100
LED Lifespan: 50,000 Hours
Warranty Terms: 2 years Manufacturer's
Operating Voltage: 86-264
Operating Frequency: 50/60Hz 
The 300 watts model of iPower is the one of most popular grow light on Amazon. It is bit larger and heavier than Roleadro 300w. It has only one cooling fan as compared to two fans in Roleadro 300w. iPower 300w comes with Power cord and Hanger set.
iPower also sells 12 Watt grow bulb which is quite popular and is cheaper than Taotronics 12W but it has a trade-off of having white lights instead of blue lights.
Pros
Has a bloom switch which is not present in Roleadro models
iPower aslo sells lower wattage range grow lights of 12, 24, and 45 which are quite popular.
Cons
2-yrs of warranty which is less as compared to 2.5 yrs offered by Roleadro, 3 yrs offered by viparspectra, 5-yrs by Advanced Platinum.
Only one fan as compared to two in other brands
Compared to other brands, the LED light is a bit heavier
7. BESTVA 1000W LED grow light
Actual Power: 185 Watts
LED chips: 10W Epistar LEDs
Coverage Area: 5.1 ft x 4.7 ft
Lifespan: 100,000 hours
Dimension: 12.2 x 8.27 x 2.36 inches
Warranty: 3 years
This is 2nd 1000w LED light in our best list. It is very competitive in comparison with King Plus 1000W regarding features and specifications, it offers.
And unlike the other brands that include 5W or 3W chips, this LED light includes 10-watt dual chips, which makes the product better than most others.
According to the manufacturer, the innovation achieves efficiency in lighting and brightness better than traditional grow lights with every LED having the highest PAR/ Lumen output. There are small holes on the glass and aluminum panel which contribute to efficient heat convection according to the brand; the LED is up to 60 degrees Fahrenheit lower than its peers.
This output is almost similar to a 600W HPS traditional light with an impressive conception of only 185W. It has twice the efficiency in terms of coverage compared. To Reflector-Series lights. They are therefore ideal for a grow area of about 5.1′ x 4.7′.
Pros
The fan is pretty quiet. Like a window fan on low setting.
All LEDs have an angle of 120° which offer a great coverage.
The manufacturer claims a core coverage Area of 5.1ft x 4.7ft which is greater than King Plus 1000W
The 3-year Warranty coupled with a 30 days satisfaction or return guarantee is quite good.
The brand also offers 1500 and 2000W (Many few manufacturers develop higher wattage grow lights!)
Cons
Not water proof; however, it is very tolerable to high humidity.
Check Prices on Amazon:


8. Advanced Platinum Series 300W Grow Light
Actual Power: 180 Watts
LED chips: 3w US made LEDs
Coverage Area: 4.5ft x 3.8ft
Lifespan: 100,000 Hours/8-10 years.
Dimension: 19″x8.25″x3″
Warranty: 5 years
And even though the brand is relatively new on the market, it is selling some of the best LED grow lights on the market with the highest quality.
The majority of the plants making some of the highest quality full spectrum LEDs are quite expensive. However, PlatinumLED is one company that distinguishes itself with top-of-the-range LED grow lights that are also quite affordable and ideal for the average indoor grower.
Even better, their products have a broader spectrum than most other grow lights on the market to help plants grow faster with healthier leaves and without deficiencies that characterize low-quality LEDs with only blue and red diodes.
They have a broader light spectrum than most LEDs, which helps plants grow faster with fewer of the leaf problems and deficiencies than you see with LED models that only have red and blue diodes.
The brand is gradually finding a foothold in the cannabis growing community because their LED grow lights are making quite an impression in terms of bud quality and yields.
It has a good coverage area of about 4.5ft x 3.8 ft and comfortably replaces the 400 HPS lighting. However, it is a bit heavier than the other grow lights from the other competing brands with the same wattage.
The brand has a reputation for excellent customer service and a mouth-watering five-year warranty for all its products.
Pros
5- years of warranty which is literally highest offered in market
Highest output in PAR/Lumen in every watt with pp to three times the intensity of other brands.
This LED has superior and widest 12-band full spectrum from the depths of UV to the heights of IR – boasting best spectral output available on the market.
Selectable Veg/flower switches
The whisper quiet fans operate two times faster than the fans in conventional LED lights and has aluminum heat sinks that are quite efficient.
Other Grow Light Items and Conclusion
Some useful gadgets that will be helpful in your grow room
Grow Room Sunglasses: Protect your eyes from UV rays indoors too when you're running a full-spectrum LED light.
Ballast/fixture: A ballast is an electrical component whose primary role is to regulate power supply in LED light systems. Sometimes, you may find that buying the bulb alone is cost-effective, but you will still need ballast as well. You can purchase the ballast separately or as a combo with grow lights.
Light meter:Maybe you think only advanced growers use them, but you are free to purchase and use it as well. Then when you're advanced, you'll already know how.
Mechanical Timer: It will save you from a lot of stress! (Don't use digital one as led will glow with digital timer even when lights are off)
Frequently Asked Questions
Q. How far should LED grow lights be from plants?
Plants need a different amount of light during various stages of the growth cycle. You can control the intensity by adjusting how far the LEDs are above the plants.
| | |
| --- | --- |
| Seeding: | 24 inches |
| Germination: | 24 to 30 inches |
| Vegetative Stage: | 18 to 24 inches |
| Flowering: | 12 to 18 inches |
Q. What is the Lifespan of LED grow?
With a quality LED grow light, and at standard usage, the equipment should go for up to 10 years. Typically, some of the LED grow lights come with warranty coverage for the entire lifespan.
Q. What are double chip LED grow lights?
The double chip LED lights feature a pair of semiconductor chips in every LED. Typically, LED has one chip.
Therefore, the double chip LED lights are up to two times brighter than a conventional LED. These grow lights are excellent for large growing canopies. However, the dual-chip LED may not be appropriate for those with a small canopy. It may prove to be an overkill.
It is our hope you have enjoyed reading this buyer's guide, and it will prove helpful in making the right buying decision in terms of LED lights. Good luck and happy growing!
Have anything to say? Feel free to do so in comments