With a growing trend of indoor growing, aquaponics, and hydroponics, you will find a lot of brands selling grow lights in the market.
Although LEDs have outperformed fluorescent and HID lights, the high-quality ones are reasonably more expensive. However, Those extra 100-200 bucks pay itself off in the 1st or 2nd harvest, longer lifespan and lower operational cost. LEDs really return the value that you pay for!
However, there is a brand that is providing affordable and high-quality LEDs to you.
Viparspectra has been a popular brand of affordable and high-quality LED grow lights among beginner growers. In 2021, they launched several high-tier products with top-notch and market-leading features that attracted many high-tier growers.
Viparspectra is a brand for grow lights manufactured by a Chinese company named Shenzhen Bailuo Tech Ltd. Based in Guangdong, China, Viparspectra is bypassing the wholesaler/middleman/distributors and sells directly to the customers. This way they are able to efficiently provide us with their high-quality LED lights directly on Amazon while keeping their prices at very affordable levels.
If you need a quick summary, then you can simply read below.
Viparspectra LED grow light is affordable and a great option for mid-tier growers and beginners. As the manufacturer is selling the LED lights directly on Amazon, you can get these LED grow lights at a cheaper price than its counterparts.
Moreover, they have established and secured customer trust through their policy offer of a 3-year warranty and a 30-day exchange/repair/money-back for any purchased light product that stops working in 30 days. You can trust in their quality and feel secure while buying any grow light model from them.
Although there are better LED grow lights option on the market, Viparspectra is targeting the mid-market for intermediate and hobbyist growers. They are establishing in that space pretty well with an endorsement from many satisfied customer reviews.
These lights are definitely the best option for a beginner indoor grower.
Recommended Models
Viparspectra Upgrade Review
As of 2021, Viparspectra has discontinued many of its previous series and launched new series with the latest several features. We'll discuss what the company has changed in its products.
Type of LEDs
Viparspectra has 5 product line series which use top-notch Samsung LM301H, LM301B, LM281B+ and OSRAM diodes. Previous outdated products had 5 watts quality chips from Bridgelux and Epileds. The spectrum of all chips ranges from IR 730nm, 660nm, 3000K, and 5000K. However, It lacks UV (380-410nm) that is available in spider farmer grow lights. The ultraviolet spectrum enhances the flower's quality & weight.
The LED array provides full spectrum that enables you to grow plants throughout the growth lifecycle. There is no need to switch lights or use separate units for vegetation/flowering phases as you have to do so with high-pressure sodium or metal halide lights. The emitted light is way too bright to stare at with your naked eyes and comparable to natural sunlight.
The Viparspectra LEDs mounted at an angle of 90-degree points straight down at the plants. Keeping the light 24" away from plants will give you perfect coverage area and maximum exposure.
On top of all things, each Viparspectra light comes with a Vegetative and Bloom switch, that enables you to turn off a specific light spectral range to manipulate the spectrum provided to your plants.
Lumens and PAR are the measures of the light intensity emitted by the LED panel. Lumens is a measurable unit of visible light produced by a source and are for humans. PAR is the parameter to consider when we are growing plants, a measurement of the intensity and coverage of the light. Check below for the PAR values at 18″ for Viparspectra V300 LED grow light.
Product Warranty
One of the important things, whenever you buy a grow light as our guide to choosing a LED grow Light suggests. The warranty of a light product is a direct indication of the extent the manufacturer believes in the standard and quality of the items that they're producing and selling on the market.
Viparspectra offers a 3-years warranty on all purchased products against any manufacturing defect, from the purchase date. However, the damage caused by power surges, water, high moisture levels, improper use, improper hanging/mounting, user modifications or dust build is not covered.
if any purchased light stops working within 30 days, Buyers can choose:
In each option, A pre-paid return label is emailed to USA Customers to ship the light back to their USA warranty center.
1. Exchange. You will get a replacement for free after the defective light is received.
2. Money back. You will get back your money as soon as the defective light is received by the center.
3. Repairing. You can get your defective light item repaired by shipping back to the center. or you can get the spare parts to repair a simple defect on an immediate basis.
No prepaid return label is provided to the customers that are not resident of the USA.
Other Features
Heat Sink without Self-cooling Fans: Conventional lighting heating up instantly to higher temperature levels, make the LEDs a solid pick. The new models of Viparspectra have no fan and are completely silent. The quantum board is made of thick alumnium material that acts as a heat sink and keeps the light cooler. The previous discontinued series had multiple 4.72-inch fans with heat sinks for proper dissipation of heat without issues.
Low Energy Usage: The LED grows lights notoriously consume much less energy compared to their counterpart, HPS. A 300-watts ViparSpectra LED panel uses a surprising average of only 136w, which is almost half as much as you would expect in many other traditional types of lighting.
Additionally, you do not need any ballast for the light as a timer can be used to control it.
Viparspectra LED Grow Lights Review
This table gives a comparison between power, diode types, features, and price ranges of all current models of Viparspectra. It'll help you to choose which series meets your requirements.
Viparspectra
Models
Features
Price Range
KS Series

Power Range: 250 - 500W
PPF Range: 587 - 1273 μmol/s
Samsung LM301H/OSRAM Diodes
Bar Style, Sosen driver

$250-600
XS Series

Power Range: 120 - 450W
PPF Range: 1260 - 2144 μmol/s
Samsung LM301B Diodes
Quantum Board, Meanwell HLG LED driver



$110-430
VS Series

Power Range: 100 - 200W
PPF Range: 2423 - 2676 μmol/s
Samsung LM301B Diodes
Quantum Board, Meanwell XLG LED driver



$90-180
VB Series

Power Range: 100 -150W
PPF Range: 959 - 1232 μmol/s
Samsung LM281B+ Diodes
Quantum Board, Remote control, Sosen Driver, Daisy Chain

$80-181
Pro Series

Power Range: 95 - 400W
PPF Range: 930 - 1811 μmol/s
Samsung LM281B+ Diodes
Quantum Board, Sosen Driver

$70-350
Reflector Series

Power Range: 300 -1200W
PPF Range: 1207-1718 μmol/s
Bridgelux & Epileds Diodes
Old Reflector Design, No dimmable function

$80-300
Let's go in deep to know the different series and models available in the product line of Viparspectra.
ViparSpectra KS Series - Bar Style
The KS series is the highest-end product line of Viparspectra. It is bar-style light that evenly distributes the light in the canopy. it features latest top-notch diodes from Samsung LM301H with a spectrum range of 3000K, 5000K, 660nm, IR 730nm. All  3 models have square dimensions (equal height and width) and a thickness of 1.6 inches. Check the following table to figure out what suits your needs.
Model Name
Power/
Diodes
Coverage/
Dimensions
PPF/PPE
Price
ViparSpectra KS2500
250W
576 pcs
3 × 3 ft
26 × 24 inches
587 µmol/s
2.4 µmol/J
Check Price
ViparSpectra KS3000
300W
849 pcs
2 × 3 ft
32 × 32 inches
782 µmmol/s
2.6 µmol/J
Check Price
ViparSpectra KS5000
500W
1260 pcs
4 × 4 ft
40 × 40 inches
1273 µmol/s
2.6 µmol/J
Check Price
ViparSpectra KS2500, KS3000, KS5000 provide a power of 250W, 500W and 600W which is HPS/MH equivalent to 500W, 600W and 1000W respectively
ViparSpectra XS Series
The XS series of ViparSpectra features rectangular 3-inches thick quantum board LED grow lights with Samsung LM301B and Meanwell HLG LED driver.
Model name
Power/Diodes
Coverage/Dimensions
PPF
ViparSpectra® XS1000
120W
252 pcs
2.5 × 2.5 ft
11.8 × 11 inches
1260 µmol/s
ViparSpectra® XS1500
150W
360 pcs
3 × 3 ft
14 × 10.8 inches
1544 µmol/s
ViparSpectra® XS2000
240W
576 pcs
4 × 3 ft
20 × 12 inches
1845 µmol/s
ViparSpectra® XS4000
450W
1008 pcs
5 × 4 ft
40 × 12 inches
2144 µmol/s
ViparSpectra VS Series
The VS series of ViparSpectra features rectangular 2.5-inches thick quantum board LED grow lights with Samsung LM301B and Meanwell XLG LED driver. The VS1000 and VS2000 provides 100W and 200W which are HID replacement for 250W and 500W respectively.
Model Name
Power
Coverage/Size
PPF
ViparSpectra® VS1000
100W
2.5 x 2.5 ft
12 x 10.8 inches
2423 umol/s
ViparSpectra® VS2000
200W
4 x 3 ft
23.9 x 10.6 inches
2676 umol/s
ViparSpectra VB Series
Samsung LM281B+
Power
Coverage
PPF
ViparSpectra® VB1000
100W
2.5 × 2.5 ft
12 × 10.8 in
959 µmol/s
ViparSpectra® VB2000
200W
4 × 3 ft
24 × 10.8 in
1232 µmol/s
ViparSpectra Pro Series
Samsung LM281B+
Model Name
Power
Coverage
PPF
Pro Series P600
95W
300pcs
2 × 2ft
10.6"×10.6"×2.4"
930 µmol/s
Pro Series P1000
100W
400pcs
2.5 × 2.5 ft
12"×11.2"×3.0"
1006 µmol/s
Pro Series P1500
150W
490pcs
3 × 3 ft
14"×11.2"×3.2"
1393 µmol/s
Pro Series P2000
200W
700pcs
4 × 3 ft
20"×11"×3.2"
1685 µmol/s
Pro Series P2500
250W
840pcs
4 × 3.5 ft
21.7"×11"×3.2"
1785 µmol/s
Pro Series P4000
400W
1400pcs
5 × 4 ft
39.4"×11"×3.2"
1811 µmol/s
Discontinued Series
Viparspectra Model
Power
Max
Coverage
Dimension
HPS
Equivalent
Features
Reflector 300W
136W
2x2ft
12.6x7.9x3
250W
Reflector Design
Reflector 450W
200W
2.5x2.5ft
15.8x8.4x2.4
400W
Reflector Design
Reflector 600W
269W
3x3ft
15.3x12.8x3
600W
Reflector Design
Reflector 900W
418W
4x4ft
22.5x12.8x3
1000W
Reflector Design
Timer Control 1350W
620W
5x5ft
21.9x21.7x3
1000W
Timer Control, Remote
Timer Control 300W
134W
2.5x2.5ft
15.7x8.3x2.6
250W
Timer Control, Remote,
Daisy chain
High Penetration 300W
130W
2x2ft
13.5x7.6x2.8
250W
Convex Lens, Daisy chain
Dimmable DS350
136W
2x2ft
14x8.5x2.8
250W
1 Dimmer
Dimmable PAR1200
527W
4x4ft
19.7X17.3X3.5
1000W
Veg & Bloom Dimmers
Dimmable PAR450
200W
2.5x2.5ft
14.1X11.4X3.3
400W
R,B,W Dimmers
Dimmable PAR700
325W
3x3ft
19.7X11.8X3.5
600W
R,B,W Dimmers
PAR600 600W
285W
3x3ft
14.1X11.8X3.5
600W
R,B,W Switches
Old V1200 1200W
524W
5x5ft
19.2x19.2x3
1000W
Square, cheapest
w.r.t watts
1. Reflector Series: Cheapest
As the name suggests, this series offers built-in reflectors to direct the entire light coverage down towards the plants instead of dispersing it around your grow tent.
The 600w and 450w models are the most popular Reflector-series lights. Even professional growers purchase and run a multiple 450w or 600w models adjacently instead of opting for a single higher-watt (900w or 1200w) model.
All models come with 4.72″ fans, bloom/vegetative switches, and Aluminum cooling heat sinks.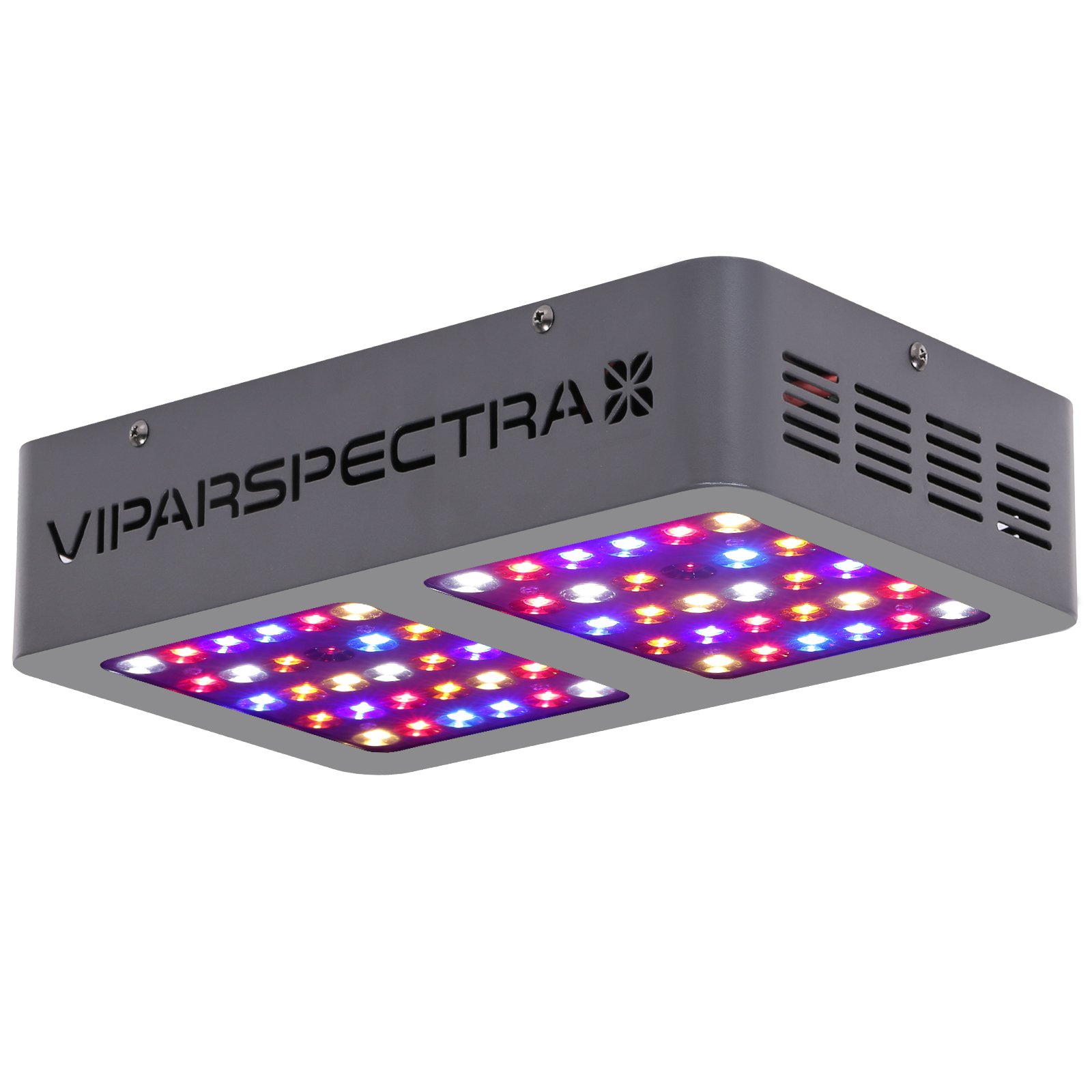 Grow Space: 3'x3′ core coverage, though some light will reach to the edges up to 4'x4'
Actual Power Consumption: 276W
How Far to Keep the light from Plants: 24″ is the appropriate starting distance from the plants.
Average Yields: 4.5-6+ ounces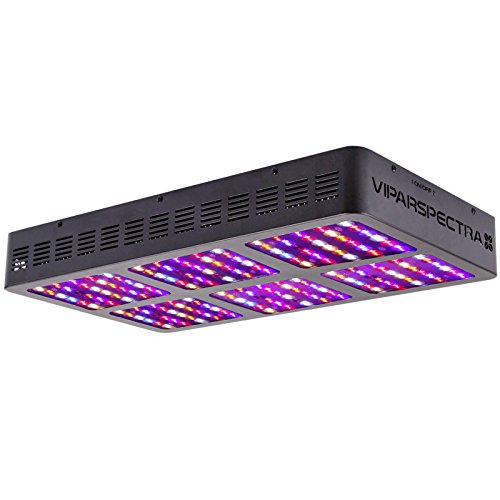 Grow Space: 4'x4' core coverage, though some light will reach to the edges up to 5'x5'
Actual Power Consumption: 524W
Distance from Plants: 24" is the suitable starting distance from the plants.
Average Yields: 9-14+ ounces 
[/su_list]
2. Timer Control Series
It has a remote! You can set working/off -time to turn the light on and off automatically. It also has a dimmable feature to program VEG and BLOOM brightness individually. It is available in a lot of models: 300w,  450w, 600w, 1200w and 1350w.
Check prices here.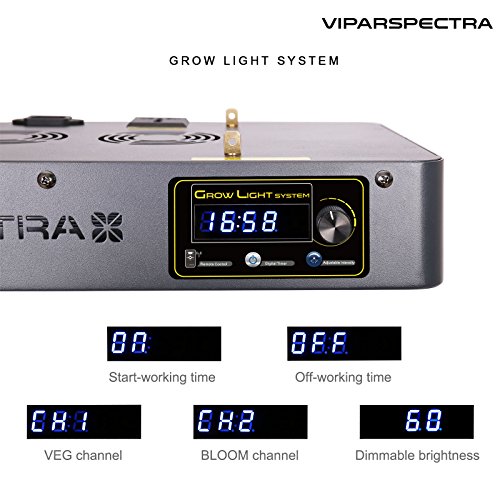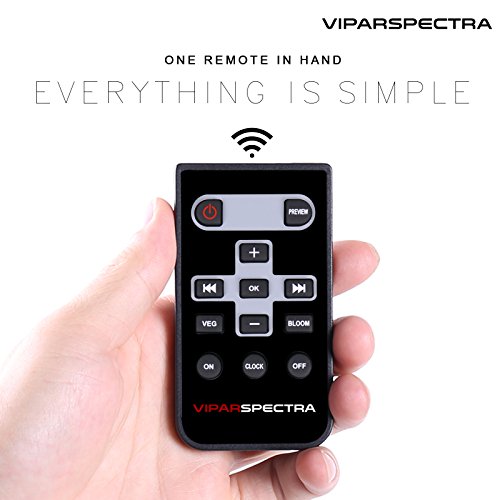 3. High Penetration Series
This series has the convex lens that distributes light to your plants evenly, (not far too concentrated in the center of the growing area).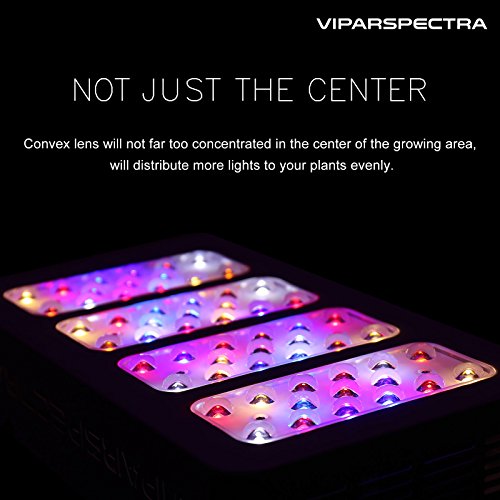 4. Dimmable Series: Expensive Most
The dimmable series can dim the light on 3 channels:
Here is what it looks like on the light: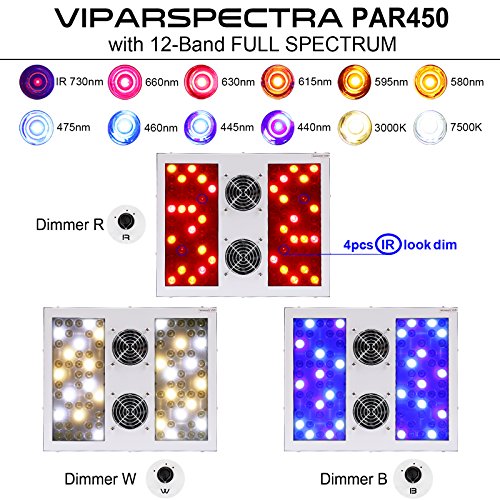 Comparison of Viparspectra with other Brands
Viparspectra vs Mars Hydro
Viparspectra is a better value for the bucks than Mars Hydro. The warranty of Mars hydro is just of 1-year in comparison to 3-years of viparspectra. Viparspectra also has a higher lifespan of 100,000 hrs in comparison to just 50,000 of Mars Hydro.
Viparspectra vs kind LED
King LED has a limited product line that includes only K5 and K3 series in comparison to a wide range of models offered by Viparspectra. Viparpectra uses 5w of LEDs, while King LED uses 3w diodes. Viparpectra, with no doubt, gives you more options, flexibility, and quality under one brand
You can look for the alternatives of Viperspectra lights in the article of Best LED Grow Lights and if you're looking for the best LED light by watts, this comparison of LED Grow lights by watts is for you.