With a growing trend of indoor growing, aquaponics, and hydroponics, you will find a lot of brands selling grow lights in the market.
LEDs have outperformed HID and fluorescent lights but high-quality LEDs are fairly more expensive. However, The extra 100-200 bucks pay itself off in the first or second harvest. Since it has lower operational cost and longer lifespan. You really do get what you pay for with LEDs!
However, there is a brand that is providing affordable and high-quality LED to you. A popular player in the LED grows lights industry is Viparspectra, whose lights are popular for beginner growers.
Viparspectra is owned by the Chinese company Shenzhen Bailuo Technology Co., Ltd. They're based in Guangdong, China and are bringing LED directly to market themselves instead of going through a distributor or middleman.
This is one reason why their LEDs are less expensive than comparable models — by going directly to Amazon and other retailers from China, they're able to avoid markups that distributors and wholesalers typically charge.
If you are in a hurry, then simply read below.
Viparspectra LED grow light is a great choice for beginner and mid-tier growers. They offer LED lights at an affordable price point, partially because the manufacturer themselves are selling these lights instead of going through a wholesaler or distributor.
On top of that, they offer a 3-year warranty and a 30-day exchange, money back, or repair policy for any lights that stop working in 30 days, which gives the buyer a protection on purchased product and build trust in their quality.
While there are objectively better LED grow lights on the market, Viparspectra themselves state that they aim to be mid-market for hobbyist and intermediate growers, and I think they occupy that space well.
They're a solid pick if you're a beginner in indoor growing.
Recommended Models
Viparspectra Review
Here is the standard specifications that Viparspectra provides, found on all of its products:
| | |
| --- | --- |
| LEDs Angle | 90° |
| Input Voltage | AC100-240V |
| Frequency | 50-60Hz |
| Lifespan | 100,000 hours |
| Warranty | 3-years |
| Lifespan | 100,000 hrs |
| Product Line | Reflector, Dimmable, Timer control Series |
| Extra Features | 4.72" fans, hanging kit, power cord |
Viperspectra LEDs
Viparspectra uses a combination of 5 watts Bridgelux and Epileds, both well-known LED manufacturers that make quality chips. They use chips in the following spectrum ranges:
730nm -Infrared
660nm
630nm
615nm
595nm
580nm
475nm
460nm
445nm
440nm
3000K
7500K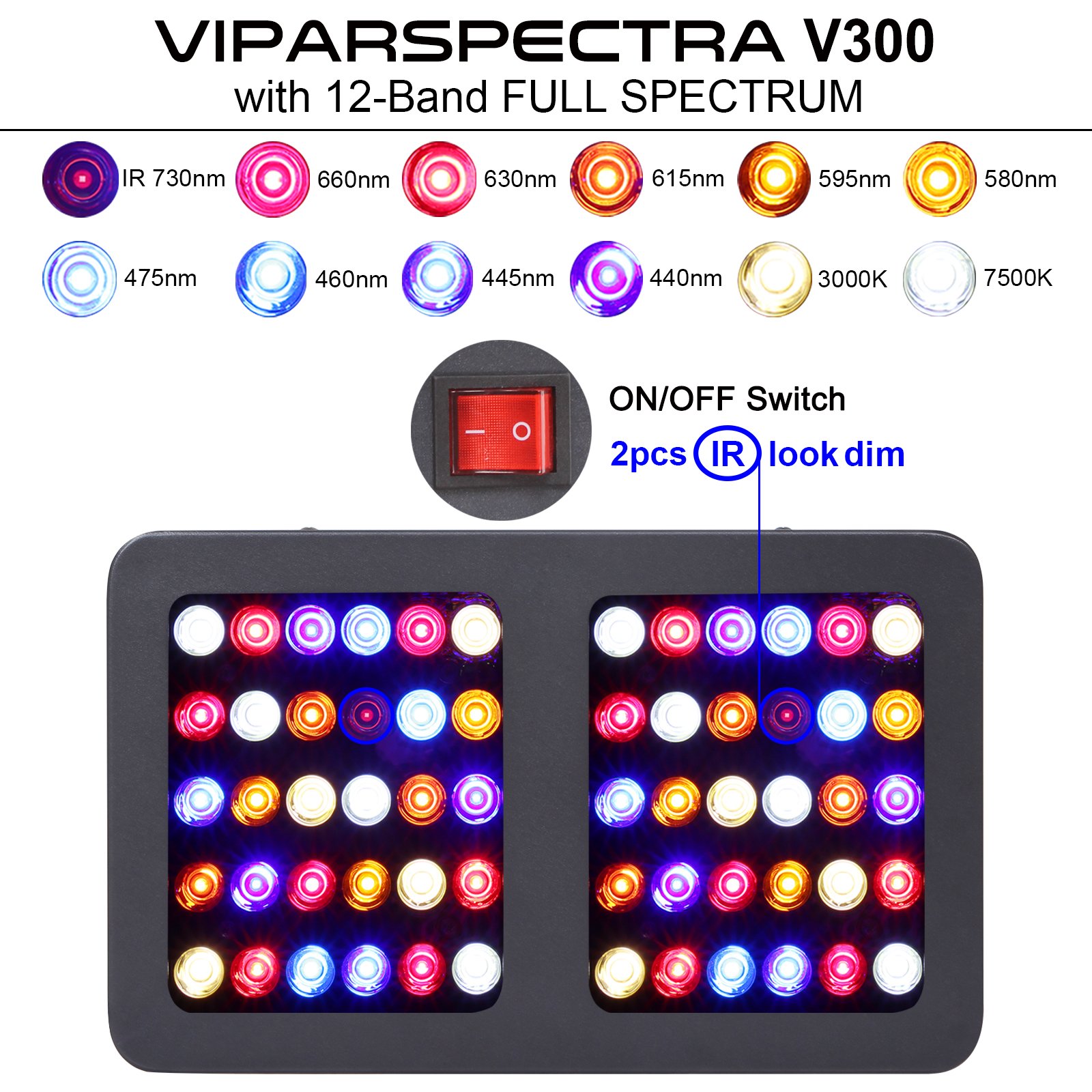 This is a full spectrum LED array and provide light comparable to natural sunlight, which is way too bright to stare at with your naked eyes. It is possible to grow plants through their entire lifecycle without having to switch lights (a problem you run into when growing with only a metal halide or high-pressure sodium lights).
Viparspectra also has the LEDs mounted at a 90-degree angle pointing straight down at your plants.
More importantly, all Viparspectra lights come with a Vegetative and Bloom switch, meaning you can turn off a specific spectral range of the lights to manipulate the spectrum that you're giving your plants.
Lumens and PAR are the measures of the light intensity emitted by the LED panel. Lumens is a unit of visible light emitted by a source and are for humans. PAR is what we look at when we are growing plants, a measurement of the intensity and coverage of the light. Check below for the PAR values at 18″ for VIPARSPECTRA V300 full spectrum LED grow light.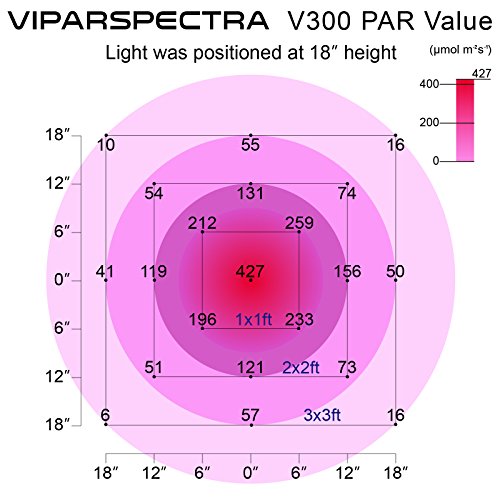 Viparspectra's Warranty
One of the important things, whenever you buy a LED grow light as our guide to buying a LED grow Light suggests. The quality of a light manufacturer's warranty is a direct signal as to how much they believe in the product quality that they're making and selling to you.
Viparspectra offers three years warranty for all of our products purchased against manufacturing defects, from the date of purchase. However, it does not cover damage due to high moisture levels, water, power surges, improper hanging/mounting, improper use, dust build-up or user modifications.
Buyers in the USA, if any lights stop working within 30 days, can choose:
1. Exchange. We will email you a pre-paid return label, please ship the light back to our USA warranty center. A replacement will be sent to you for free as soon as we receive the defective light.
2. Money back. We will email you a pre-paid return label, please ship the light back to our USA warranty center. You will get your money back as soon as we receive the defective light.
3. Repairing. We can send parts free of charge immediately if you'd like to repair a simple defect. Or we will email you a pre-paid return label to bring light back, then ship back to you after we repair it. All for free.
For buyers outside of the USA, if any lights stop working within 30 days, No prepaid return label is provided.
Other Features
Self-cooling Fans & Heat Sink: Conventional lighting heats up quickly and with much higher temperatures, make LEDs a superior choice. The ViparSpectra Reflector Series is equipped with multiple 4.72-inch fans – each one includes its own individual heat sink that properly dissipates heat without issues. Using these LEDs, you likely won't need additional cooling systems in your grow room, or any fancy exhaust system if you're simply growing on a small scale.
Low Energy Consumption: LED grow lights notoriously use much less energy than their counterpart, HPS. The 300w ViparSpectra panel uses a surprising average of only 136 watts, which when compared to many other traditional kinds of lighting, is nearly half as much as you would expect.
Additionally, the light does not require any ballast since you can use a timer to control it.
Viparspectra LED Grow Lights Review
This table gives a comparison between Coverage Area, Dimension, wattage, and weight. Click on the name of the model to view image of width and height of PAR value of that model.
Viparspectra LED Review
Here is the list of Models sold by viparspectra.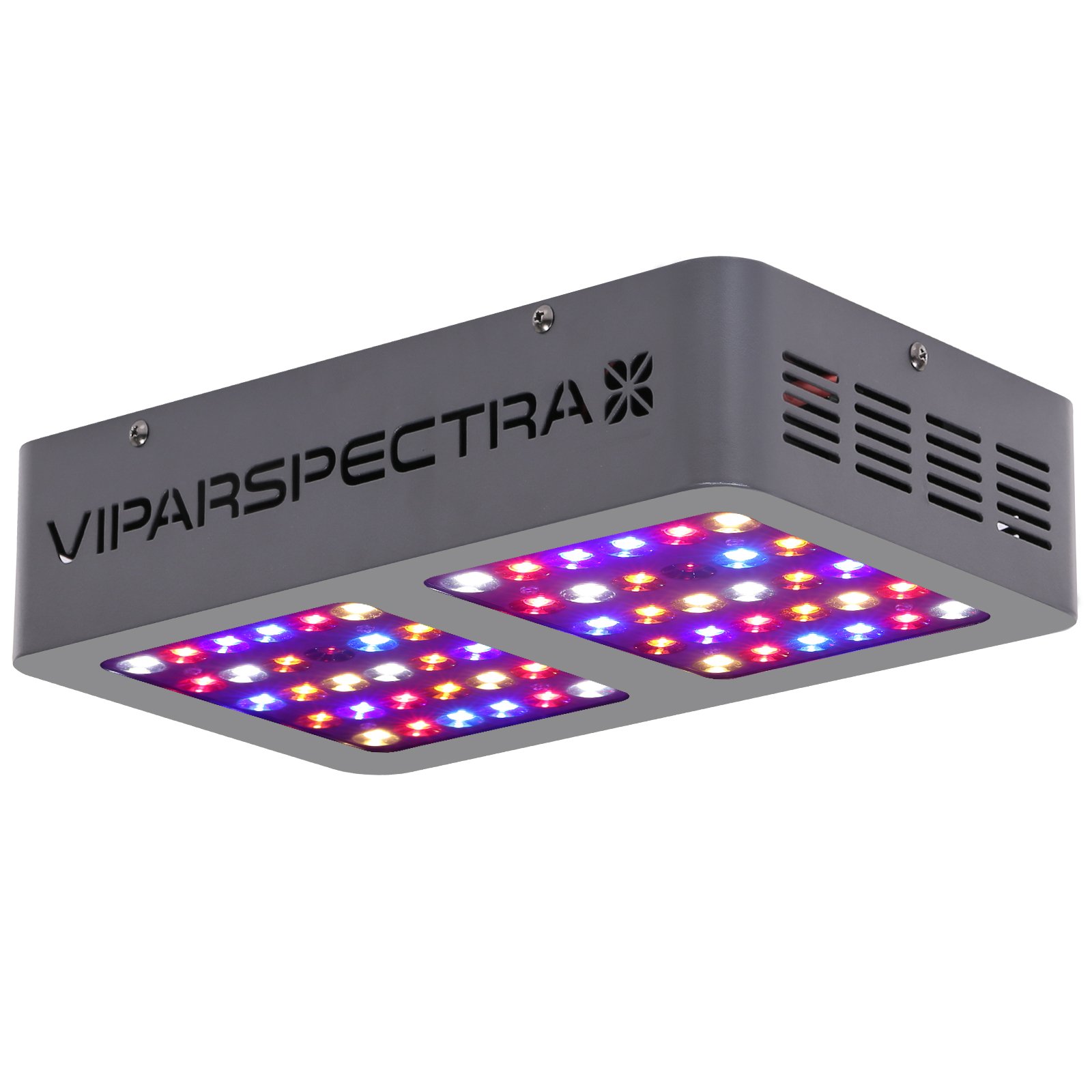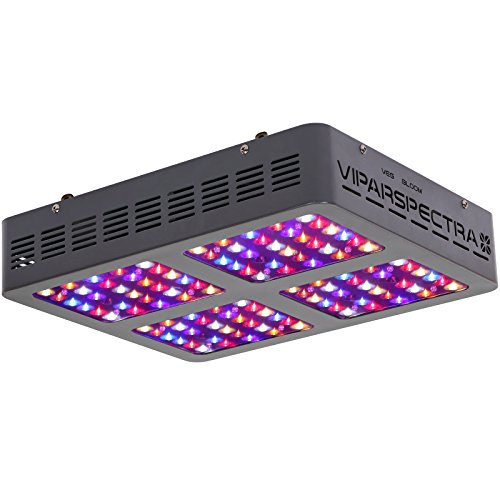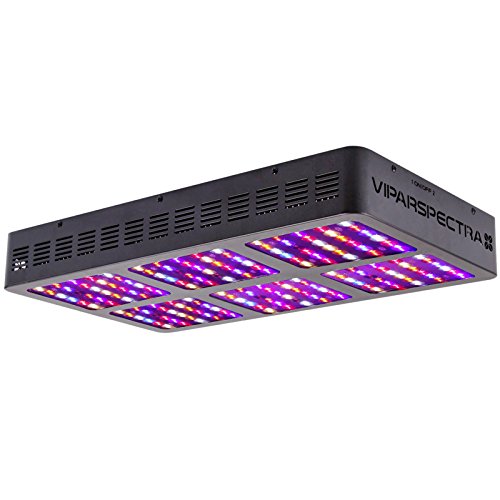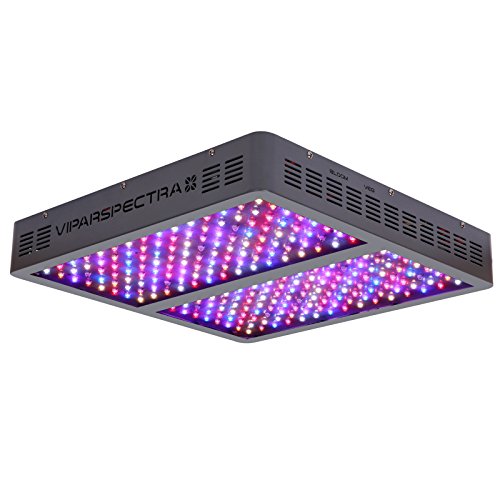 Viparspectra vs Mars Hydro
Viperspectra is abviously better than Mars Hydro. Mars hydro has warranty of 1 year as compared to 3-year by viperspectra. Labelled lifespan of marshydro is 50,000 hrs while viperspectra has 100,000 hrs.
You can check other alternatives of Viperspectra in our post about Best LED Grow Lights and if you're finding a best one by watts, this comparison of led lights by watts is for you.