TaoTronics are cheapest led grow lights that work because they are the best seller on Amazon seller for LED grow lights. With a smaller size, These lights are the cheapest among top led grow lights.  If you are just getting started with your small indoor garden and have 1-2 plants, then this grow light, available in 12W, 24W & 36W, is perfect for you.
TaoTronics Review
Tao Tronics has been the best seller of grow lights on Amazon for ages now. With overwhelmingly positive reviews from thousands of satisfied buyers, the company has established a good reputation in LED grow lights market.
They sell a wide range of different tech products. They provide great customer service and post-order support to  customers as indicated through most of the positive reviews for their products.  They are not some fly by night company that sells cheap nasty stuff to the masses than vanish with our money. The products work well and they are good value for money and if something does go wrong they will help.
If you are in a hurry, then simply read below.
TaoTronics LED grow light is a great choice for beginner and those with a small indoor setup. Being cheapest LED grow lights, they have over 1500 satisfied customers. That's why these lights are most popular grow light on Amazon. They use a minimal power that will have a negligible effect on your electricity bill.
Recommended Models
Features
There are some specifications which TaoTronics have same on all LED grow light products.
| | |
| --- | --- |
| Socket Model | E26 |
| Lifespan | Up to 50,000 hours |
| Input Voltage | AC 85-264v |
| Available Models | TT-GL20 (12w), TT-GL22 (24w), TT-GL23(36w) |
| LED Color Bands | 3 x 660nm leds, 6-7 x 630 nm leds, 2-3 460nm leds |
| Suggested Height | 1.7-5ft |
| Warranty | 1 yr |
| Price | Check Price |
TaoTronics LEDs
The bulb has 12 LEDs, three blue and nine red, which emit wavelengths of 660nm and 430nm as well as 630nm and 460nm for all phases of the growing cycle. These peak wavelengths are suitable for maximum chlorophyll A and B production.
Blue 460 nanometers: Blue light provide suitable wavelength for photosynthesis, aids to induce Carotenoid and Chlorophyll, which are necessary for healthy leaves and vegetation.
Red 610-720 nanometers:  is best for blooming and fruits phase with 660 nanometers being the peak wavelength for photosynthesis and photoperiodism.
Warranty
There is a 12 month manufactures warranty which is extended by another 6 months if you register your new purchase online. Make sure that you buy this light from an authorized dealer such as amazon.com because otherwise, your warranty will be void.
Other Features
Lifespan: LED lights have an average lifespan of 50,000 hrs that is less than Viparspectra and other brands. However, for the price and watts, it's not a bad takeaway
Less heat, more growth: Keeping the heat off plants is essential.  This LED does not heat up and maintains a cooler temp even after 24 hrs of continuous use, as the heat dissipation area is maximized because of aluminum and a unique heat sink design.
Hardly Any Electricity Fees: Annually, only 100 kWh of energy is used in contrast to 1000 kWh by traditional lights. In contrast, other types of lights also need to replace the bulb over the team. TaoTronics is a great investment for growing plants without any significant burden on your wallet.
Inexpensive: if you take it as a one-off purchase to enable you to grow plants all year.
You don't need to buy any special socket for this light bulb as it operates on standard E26 sockets.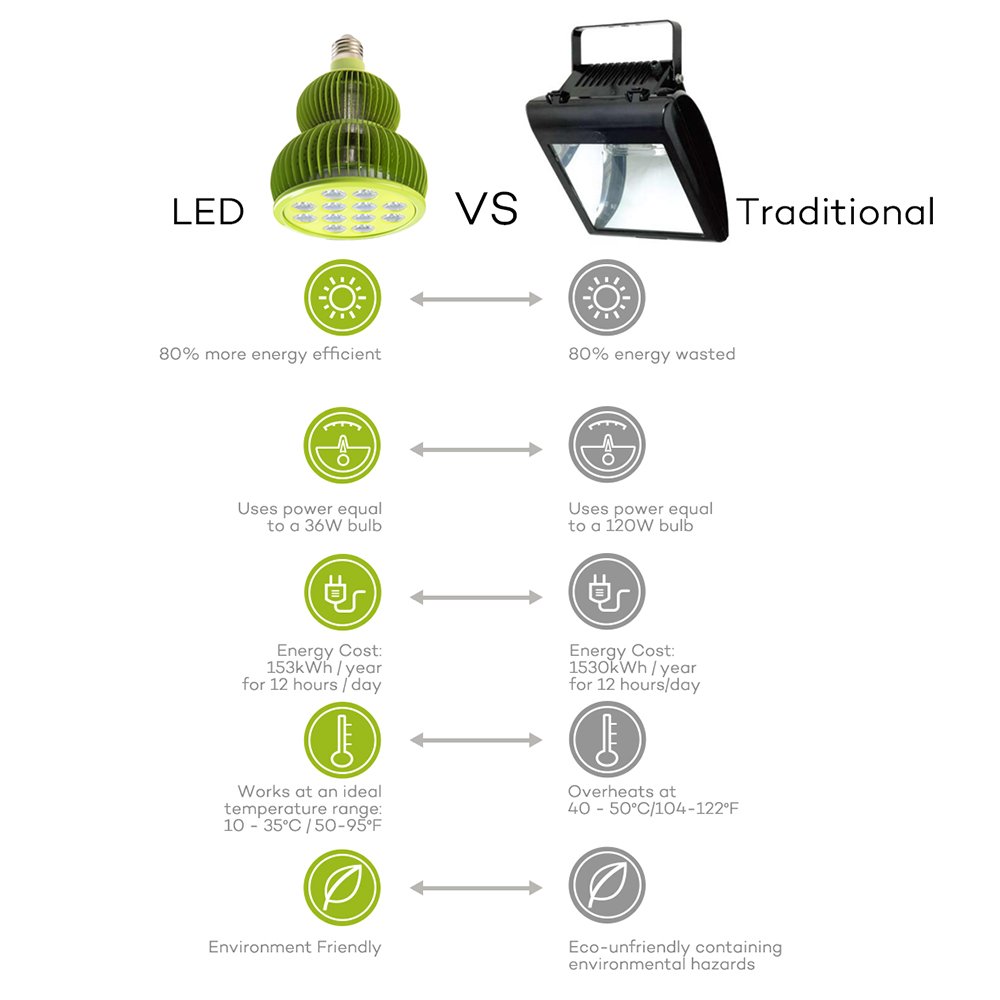 TaoTronics LED Grow Light - Review
| | TT-GL20 | TT-GL22 | TT-GL23 |
| --- | --- | --- | --- |
| Power | 12W | 24W | 36W |
| Color | White | White | Green |
| Number of Leds | 12 leds/1w | 12 leds/2w | 12 leds/3w |
| Input Current | 300mA | 500mA | 650mA |
| LED Angle | 30 degree | 30 degree | 60 degree |
**TaoTronics 24w led grow light bulb: TT-GL22 is not available for sale on amazon, so we are not reviewing it further.
1. TaoTronics 12w led grow light: TT-GL20
2. TaoTronics led grow light bulb 36w: TT-GL23
Other TaoTronics LED Products
If you are looking for a higher wattage LED Lights or have a bigger indoor setup for growing plants, Check these LED Grow lights alternatives to Taotronics