Coleman is one of the leading, most popular and trusted brand in best portable inflatable hot tubs.
They've been market dominators in outdoor, sporting and recreational products for years.
Consumers trust the Coleman Company for sturdy construction, ease of use and long-lasting durability in all of their products, and their hot tubs are no exception.
We are going to review the two most popular Coleman hot tubs.
Coleman Hot Tub Reviews
1. Coleman Lay Z Inflatable: 4-6 Person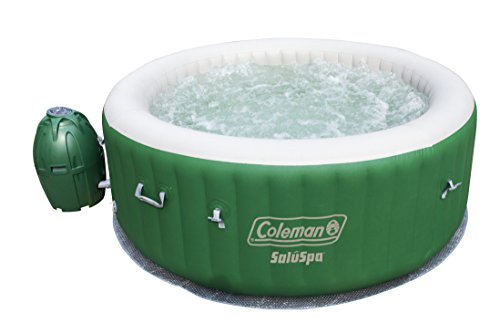 If you want to get an inflatable hot tub to pamper yourself, this brand is for you. Its outer walls are made from fabric-coated material and it is equipped with a pool cover with aluminum foil coating to keep the water extra warm. Aside from this, Coleman Lay-Z spa also equipped the following hot features: Lay-Z Massage System, Rapid Heating, and Integrated Water Filtration.
Because this is a portable, inflatable hot tub, you don't have to install a large in-ground hot tub that requires thousands of dollars and the services of a plumber and an electrician. The tub can be moved inside during cold weather and taken with you when you travel or go on vacation.
It sets up easily and quickly, and no extra tools are needed.
The Coleman Lay-Z Spa is easy to get into; just step over the side. You really don't need steps.
The tub fills quickly with a standard garden hose, although you do need to allow at least 24 hours for the water to reach the maximum 104-degree-temperature.
The heater and pump don't make a lot of noise, although the bubbles do create more of a vacuum cleaner sound. You're going to find this with any hot tub, no matter how expensive, but this can add to the soothing effect.
The Coleman Company offers greater customer service. The package includes a refrigerator magnet with the toll-free customer service phone number on it. Owners report customer service is friendly and helpful.
The Lay-Z Spa also can't be left set up outside in temperatures under 40 degrees Fahrenheit, which means that it might not be the best choice for people who are looking for something to use in the winter and live in the coldest US states.
The bubbles in the Coleman Lay-Z Spa are not like hard water jets, but more like a soft massage. If you're looking for those pounding jets, you won't find that here, but you might enjoy the gentle bubbles.
The safety of the cover must be an issue, too. The manual says it's not a "safety cover." If you have small children, you'll want to be sure the tub is in a secure setting where a child could get into it, such as a fenced-in area with a lock on the gate or in a locked garage.
The heater doesn't run when the bubbles are on like many other inflatable hot tubs.
Thinking to buy it? You can add it to your cart by clicking the following button while you make a decision.
2. Coleman SaluSpa Inflatable Hot Tub: 4-Person
With about 90-100$ cheaper than Lay Z Spa, Saluspa can accommodate only 4 people and have a water capacity of 192-gallons.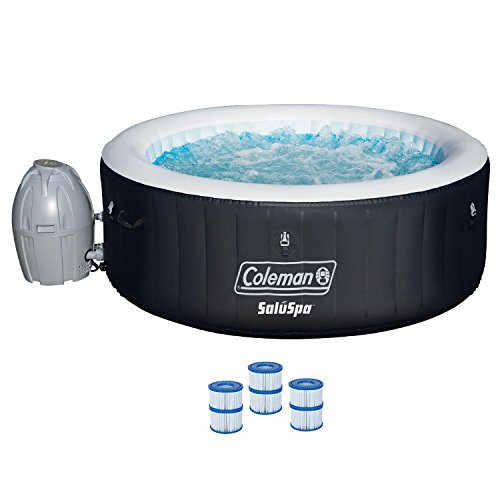 Inflatable and portable hot tub that seats 4 people.
You can take it with you on your vacations or relax at home. It has massage jets and a cushioned floor, making it easy for you to unwind.
The hot tub inflates within minutes and the rapid heating system quickly heats the water up to a soothing 104 degrees with 60 surrounding air jets. Hot temperature is perfect for soothing sore muscles or lounging after a long day and the digital control panel lets you adjust the temperature without having to get out of the tub. The walls are made of durable 3-ply PVC and have sturdy I-Beam construction that allows you to sit on the sides of the spa thanks to the superior structural stability.
There are 2 handles built into the sides for easy transportation. This package also includes a chemical floater to keep your spa clean, a twin pack of filter cartridges, and an inflatable cover to keep your water warm when you're not using it. Enjoy the luxury of a hot tub in your house by yourself, with friends, or as a romantic treat with the Coleman Inflatable Miami Spa.
Thinking to buy it? You can add it to your cart by clicking the following button while you make a decision.
Coleman Hot Tub Prices
The Coleman Lay-Z Spa is priced under $500 and SaluSpa is priced under $400, which is quite economical for the features it offers. You might want to compare it to the Intex PureSpa, which is generally priced about $30 less and appears to have lesser costs associated with replacing filters.
Coleman Pools Vs Intex Pools
Both of these hot tubs are an excellent choice and you won't go wrong if you wanted to buy either one. Coleman Lay Z Spa has a higher average consumer rating than the Intex hot tub. Coleman Lay-Z Spa and Intex Purespa have same inflated Size of 77″ diameter x 28″ height. But Coleman Lay -z spa [254 Gal] have more water capacity than Intex [210 Gal]. It can accommodate 2 more people than Intext PureSpa.
So if you're looking for a 6 person hot tub, you definitely should go with Coleman lazy spa. If you can accommodate in 4 people capacity. You have two option Intex PureSpa or Coleman Saluspa.
Unlike the Coleman Slauspa, Intex model comes with an entire set of accessories that are necessary for any tub. This includes extra filter cartridges, chemical testing strips, and a chlorine dispenser.
Coleman Hot Tub Problems
Coleman Lazy Spa Error Codes
There may be a number of reasons why your heater/pump is displaying an error code. The following is a list of error codes, the reason behind them and how they can be solved. Check more here.
Lay Z Spa Heater Trips Out
When you press the heater button, it blows trip switch? With power disconnected, take off the cover, take off heater leads. Take a picture or write a note to remember where they go. If you turn it on and doesn't blow fuse it's a bad heater element. You may need a replacement.
Tip: if you are not using your spa for a period of time, then take your filters out of the pump/heater unit and keep them in a dry place, just remember to put them back in before you turn your filter pump back on and bleed the system of air again before you use your Spa again.
Keep your tub clean as the debris (hair strands, gravel, leaves, grass etc) stuck in the pump may cause your Bestway Heater Pump to restrict from working properly.
Coleman Hot Tub Features
Since Coleman Lay z spa hot tub is the best of the two with over 1100 customer reviews on Amazon. We'll get into the details of this product.
Lay-Z-Massage System
The highlight of the Coleman Lay-Z Spa Inflatable Hot Tub is the Lay-Z-Massage System, a hydromassage system powered by 120 bubble jets.
Rapid Heating System
This sets up the hot tub water temperature quickly, approximately 2-3 degrees per hour, or about 24 hours to raise the water temperature up to the maximum 104 degrees.
You can get it to the temperature in only six hours if you use hot water as reported by many users. However, it may cost you some extra bucks.
Digital Control Panel
Sitting on top of the large green egg-shaped device, this controls all the features of the hot tub, activates the bubbles, controls the temperature, and locks the control panel as a child-safety feature. A review of the control panel buttons shows the following: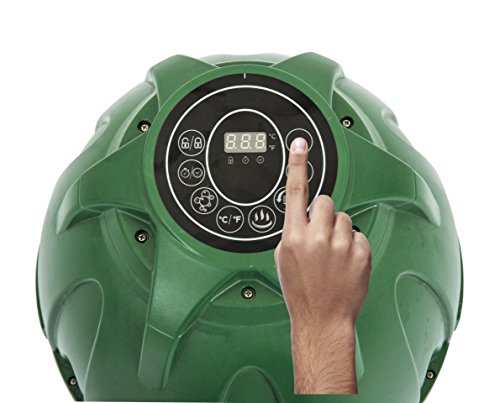 A review of the control panel buttons shows the following:
Auto-lock: There is a five-minute auto lock on the control panel. To release the controls, hold this button down for three seconds.
On the left and right sides, there are buttons marked with an up arrow and a down arrow. Press either one to increase or decrease the water temperature.
The button marked with a sunray activates the heating system. The pump will heat the spa water until the temp reaches 1 degree higher than the set temp. After the current water temp drops 2 degrees below the set temp, the heating system will restart. When the light above the heat button is red, the system is activated. When the light is green, the water is at the set temp and the heating system is at rest.
The button with the three bubble sprays activates the bubble massage system.
Button on the bottom left marked F/C, toggles between Fahrenheit and Celsius temperature readings.
To the right of the temperature, a toggle button is the water filter button that turns the water filter pump on and off. When activated, the light above the water filter button will turn red.
Integrated Water Filtration
The filtration system keeps your water clean and comes with a twin pack of two extra filters. When the heating system is activated, the filtration system will automatically restart. When the heating system is turned off, the filtration system will continue to operate. Your hot tub will have come with a filter however it is important to wash these out under the tap and from time to time you should replace them with a new one. You can buy some here
Seats: There are no built-in seats, but you sit on a soft, cushioned bottom, similar to sitting on an air mattress.
DVD detailing spa setup and maintenance.
There is a six-month warranty on the spa liner and a one-year warranty on the spa pump.
Coleman Hot Tub Accessories
Floating LED Lights: Add some color and light to your spa with the Lay-Z-Spa Hot Tub & Pool LED Floating Light. A floating lighting device that will brighten up your spa and add some mood lighting in the evening. Check it out here out here
Hot tub chemicals: Keeping your water appropriately tested and using the correct chemicals is very important. Check a complete guide about chemicals in hot tubs here.
Mosaic print pool liner with cushioned floor and convenient drain valve
Insulated Cover: When you aren't using the tub, the cover that is insulated with an aluminum foil coating maintains heat and keeps out debris. Round leather-type piece fits inside the cover and inflates to provide greater insulation.
Coleman Lay-Z Spa cover
Chemical Floater: This small plastic device floats in the water and easily dispenses the necessary chemicals. This is usually included with the hot tub
Air-Padded Ground Cloth: This is included to protect the bottom of your spa.
Coleman Hot Tub Filters: To filter out this debris using a filter, keep your hot tub pump in good shape and help prevent any damage. You may need to replace from time to time with a new one. You can buy one here
Feel free to share your thoughts in comments and share this post with your friends and social circle 🙂