MSpa is a recognized brand of outdoor hot tubs on the market. The company boasts of numerous patented technologies and is one of the major manufacturers of inflatable spa and hot tubs. In this article, we're exclusively reviewing best inflatable hot tubs of MSpa spa product-line.
Warranty
All Hot tubs are usually inspected for any defects prior to leaving the factory. MSpa offers warranty against material/workmanship defects on its product for a period of:
Electric Parts (Control Box): 12 months
Spa pool: 6 months
The warranty period starts on the date of purchase. MSpa either repairs or replaces the defective products. The replacement products or repair parts are warranted only for unexpired part of the original warranty. Costumers are responsible for the shipping/freight of the defect parts to the authorized service center of MSpa.
MSpa Hot Tub – Comparison
Image
Bubble Spa Name
Features
Price
MSPA Lite Alpine M-009LS

Square shaped
Dimensions: 1.58 m (62")
Capacity: 650 liter (171 gallon)
108 Air Jets
4 persons

Check Price
M Spa B-110 Silver Cloud

Round shape
Dimensions: 1.80m/71"
Capacity: 700Ltr/184gal
110 Airjets
4 Persons

Check Price
MSPA Premium Soho M-029S

Square Shape
Dimensions: 73"
Capacity: 930Ltr (245gal)
132 Air Jets
6 persons

Check Price
MSPA Luxury M-115S

Exotic Crocodile
Skin Pattern & Gold Trim
Round shape
Dimensions: 82"
138 Airjets
4-6 Persons

Check Price
M Spa Tekapo D-TE06
(Latest 2018 Model)

Square Shape
Dimensions: 73"
Capacity: 930Ltr (245gal)
132 Air Jets
6 persons

Check Price
MSPA Lite Silver Cloud M-021LS

Round Shape
Dimensions: 2.04m (80")
Capacity: 930Ltr (245gal)
118 Air Jets
6 Persons

Check Price
Top Mspa Tubs – Reviews
1. M Spa Lite Alpine M-009LS
This spa is constructed from reinforced 6-layered PVC cover material with metallic liners that provides it a solid structural frame when inflated. 4 person can enjoy a nice dip in its warm water that is heated with a built-in heater that makes no noise. On the top of that, it features strategically placed 108 bubble jets to give a total bubble massage to your body.
Unlike most of the tubs, it is square shaped which is making it increasingly popular with a lot of hot tub owners. Some people consider square shape more comfortable for having a corner to settle back into. You get more lumbar support by leaning back into a corner as compared to round hot tubs.
A square shaped hot tub also provides you more internal space, than its round counterpart, to relax and stretch out from corner to corner. This is ideal if you wish to use your hot tub for water exercise or hydrotherapy.
2. M Spa Silver Cloud B-110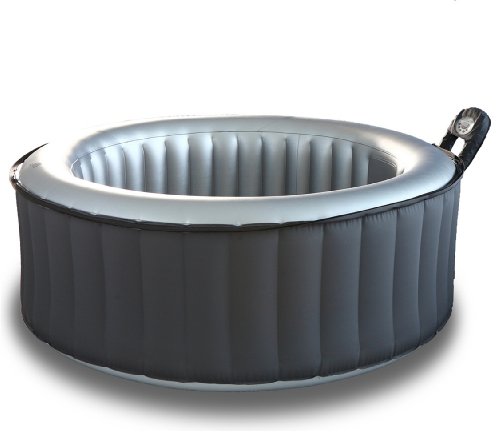 Patented Built-in Control Box with Touch Botton Controls
Premium 3-layer Laminated PVC
Water Capacity: 184 Gallons
110 Air Bubble Jets
2 X Built-in Heaters: 675Watts, 0.9HP
Maximum temperature: 104 °F (40°C)
This round shaped hot tub has seating capacity for 4 adults. It has diameter of 71 inches and holds 700Ltr/184gal of water.
3. M Spa Premium Soho M-029S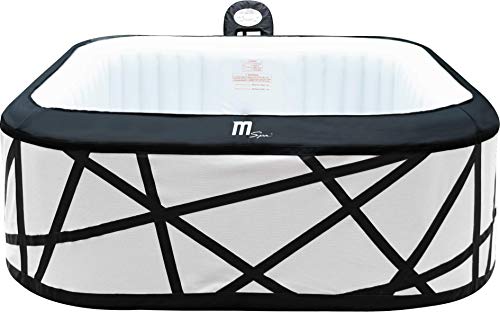 Premium Outdoor Spa
132 air jets
Whisper Quiet Technology
LED touch screen control panel
White w/black leather deco trim
Mspa Soho M-029S is a premium white outdoor spa with black leather deco trim. This square shaped inflatable spa has seating capacity for 4 bather. The manufacturer calls it a 4+2 model, which means it's large enough for 4 adults and 2 children to sit in. It features 132 quiet air jets, a built in heater and control system. This Spa measures 73 inches by 73 inches and is 27 inches deep.
Along with the 3-speed massage system, this model is equipped with the whisper-quiet motor. This motor is a little noisy in some cheaper inflatable spas that become a bit of an issue for some owners over the time.
4. M Spa Luxury Exotic Crocodile Skin Pattern & Gold Trim M-115S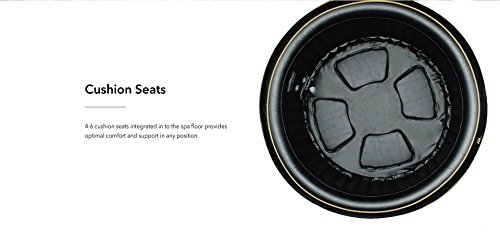 6 layer laminated pvc
138 air bubble jets
4 Person Spa
The inner diameter is 63″ across. The outside height from the base where it rests on the floor is 28″. The seats are pretty comfortable but not removable.
5. M Spa Tekapo D-TE06 (Latest 2018 Model)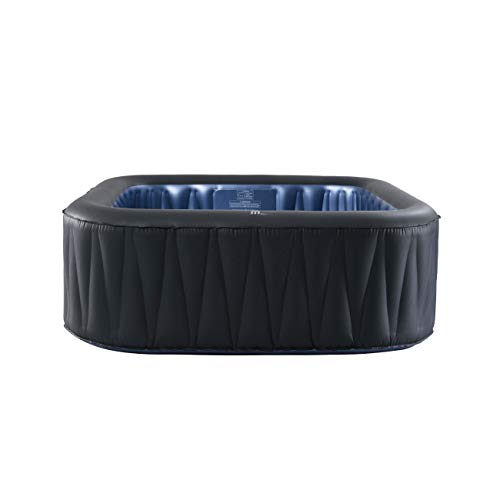 132 effervescent air jets deliver 1000s of caressing, gentle bubbles to massage your body
Charcoal grey Rhino Tech.
6-layer reinforced PVC cover material
Safety buckle design connects the top lid to the ground mat
4-hour auto-filtration function to clean the water clean.
Up to 6 person Capacity and powerful with 110V-120V
The Mspa Tekapo features 132 whisper-quiet air jets for optimal relaxation. The air jets produce bubbles that massage and surround your body for a luxurious experience. This square shaped spa has dimensions of 73 inches and a height of 27 inches. It has 6 bather seating capacity. The spa is manufactured with jet Black exterior rhino-tech 6-layers PVC with a premium PVC liner. It features bias air chamber design, a built-in heater, and an external control system.
6. M Spa Lite Silver Cloud M-021LS
 MSpa hot tub problems
Most of these hot tubs are at the luxury end of the market and are highly rated by real hot tub owners. Recently, they started manufacturing more affordable hot tubs while maintaining outstanding in quality.
Let's discuss some of the problems reported by previous models owners.
Heater problems: Most of the problems were reported because of the hard water.
Water leakage into the inflatable part of the pool.
As with most hot tubs, turning on the filter and/ or heat while plugged into an extension cord will trigger an error and shut it off.
These problems are common with hot tubs if not properly maintained. Their solution is given in the manual with hot tubs.
Alternatives of MSpa
There are several downsides of MSpa as compared to other players in the market. Comparatively, it models have seats for fewer people than its competitors.
The leg space is reported to be less in some models. They are slightly more expensive. Its water heating rate is slow and air jets are underpowered compared to its competitors. Some products are bulkier and not as easy to install. A good alternative is Coleman Hot tubs. Check the best Hot tubs in the market here.