If you're looking for backup reels that won't break your bank account. Or looking for entry-level reels, and don't intend to use reel heavily.
Then, Penn Warfare series is a quality reel for you at a very affordable price. Penn reels are engineered with high-quality and high-performance materials.
This conventional reel has two versions: the level wind reel, and the star drag reel. The level wind has 12 models and the star drag only 2.
Penn Warfare Review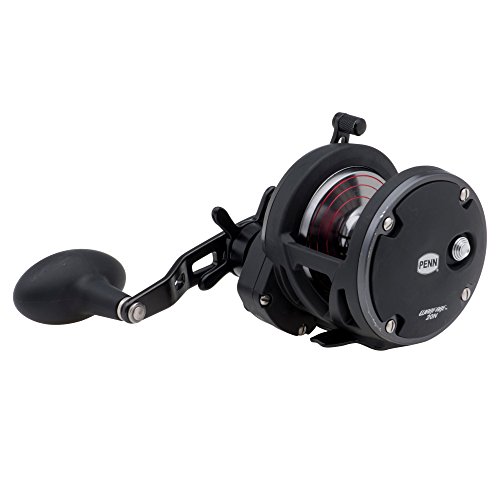 With 15 pounds of drag, This reel will manhandle just about any fish you come against inshore. Powerful 5.1:1 gear ratio lets you muscle up just about anything up on the end of your line with ease.
The real kicker with this reel is that it is light and compact only weighs like 17-23 ounces. Reel also has auto engage which is a great feature. Penn Warfare models use 3 bearings for rotation.
Penn has used graphite frame in Warfare Reels to bring the cost down. The frame twist on more powerful fish is an immediate concern. However, Penn Warfare frame is supported with rigid aluminum rings from both sides, like the Daiwa Seagate model reels.
It has double dogs, an anti-reverse bearing and scalloped Ht-100's same like the Penn Squall and Fathom.
Common specifications and features of all sizes reels of Penn Warfare are given in this table.
| | |
| --- | --- |
| Reel Handle Position | Right/Left |
| Drag Type | Star Drag |
| Drag Material | HT-100 |
| Max Drag | 15lb | 6.8kg |
| Retrieve Rate | 27 - 29 in |
| Ball Bearings Count | 3 |
| Warranty | 1 year from date of purchase |
| Features | Instant Anti-Reverse |
1. Penn Warfare Star Drag
Penn Warfare Level Wind comes in two sizes. These are right hand retrieve reels. The N at the end of the model number tells that the 20 size is a narrow spool reel.
Model
Mono Cap. (yds/lb)
Braid Cap. (yds/lb)
Gear Ratio
Weight (oz)
Price
WAR20N
415/15
280/20
255/25
760/20
570/30
400/50
5.1:1
18.3
Check Price
WAR30
440/25
360/30
275/40
985/30
690/50
575/65
5.1:1
19.6
Check Price
Both sizes share the same maximum drag resistance with a decent 15 pounds. Unfortunately, Warfare Star Drag models don't have a left-hand option like Warfare level wind reels.
If you have yet to master open face conventional reels, there is good news for you. The level wind feature directs the retrieved line to lay evenly back onto the spool.
2. Penn Warfare Level Wind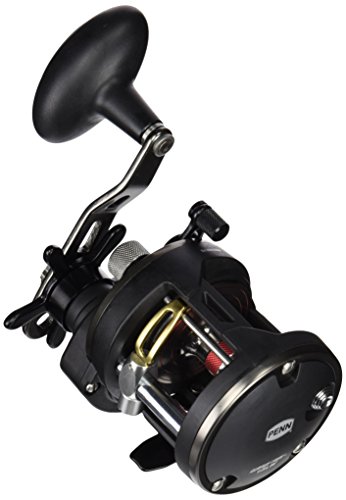 Penn Warfare Level Wind comes in three sizes.
The level wind feature directs the line back and forth as you retrieve it back in. This prevents any line twist, laying it out evenly instead. This feature along with left-hand models and the addition of a line counter gives you a lot of flexibility.
There is an option for you to choose left and right handled reel for each size. The models with LH at the end are Left handed and others are right hand retrieve reels.
You also have the option of an extra feature of line counter. If a model name has "LC", it features line counter in reel. The 30 size model has a lower gear ratio of 3.9:1 as compared to 5.1:1 of other sizes.
Model
Gear Ratio
Mono Cap. (yds/lb)
Braid Cap. (yds/lb)
Weight (oz)
Features
Price
WAR15LW
5.1:1
375/12
320/15
215/20
580/20
435/30
305/50
17.8
Right Hand
Check Price
WAR15LWLH
Left handed
Check Price
WAR15LWLC
18.5
Line Counter 
Check Price
WAR15LWLCLH
Line Counter, Left handed
Check Price
WAR20LW
475/15
315/20
290/25
865/20
650/30
455/50
18.6
Right Hand
Check Price
WAR20LWLH
Left handed
Check Price
WAR20LWLC
19.3
Line Counter 
Check Price
WAR20LWLCLH
Line Counter, Left handed
Check Price
WAR30LW
3.9:1
455/25
370/30
285/40
1020/30
710/50
590/65
22.6
Right Hand
Check Price
WAR30LWLH
Left handed
Check Price
WAR30LWLC
23.1
Line Counter 
Check Price
WAR30LWLCLH
Line Counter, Left handed
Check Price
LH: Left-handed, LW: Level Wind, LC: Line Counter
A downfall of the level wind model is that you can lose your fish if you accidentally release the drags.
Line Counter feature comes into play in the time especially during trolling or when you want to know how much of the line you have out. You can bring the count back to zero by pressing a red clear button on the line counter. The line counter sits above the reel handle at the top of the frame. The line counter operates together with the spool and counts the line in yards as it flies out.
Penn Warfare VS Squall
The Penn squall has a stronger drag and better line recovery. Squall has stainless pinion as compared to bronze in the warfare. The Squall is a smoother caster then the Warfare without a doubt. Overall, Penn Warfare is an entry level reel. However, if budget is a concern at all and you are not going to be using the reels very heavily, you are fine going with the warfares.