The Rosa centifolia, commonly known as the Cabbage Rose, bears the largest and fullest blooms of any rose. Developed by Dutch breeders from 1600 to 1800s from a clutch of other rose strains, the Centifolias possess a beautiful fragrance and an elegant, but easy-going manner, a kind of noblesse oblige. These are the rounded, full roses seen in Dutch and Flemish still-life paintings that are sometimes striped, and sometimes garnished with a lone dewdrop or ladybug. These are also the roses that adorn Victorian wallpaper, curtains, chintz sofas, and tapestry bags.
Facts
| | |
| --- | --- |
| Colour: | Clear pink |
| Fragrance: | Strong, Old Rose |
| Size: | Large Shrub (125-150cm) |
| Bloom Size: | Large |
| Flowering: | Once |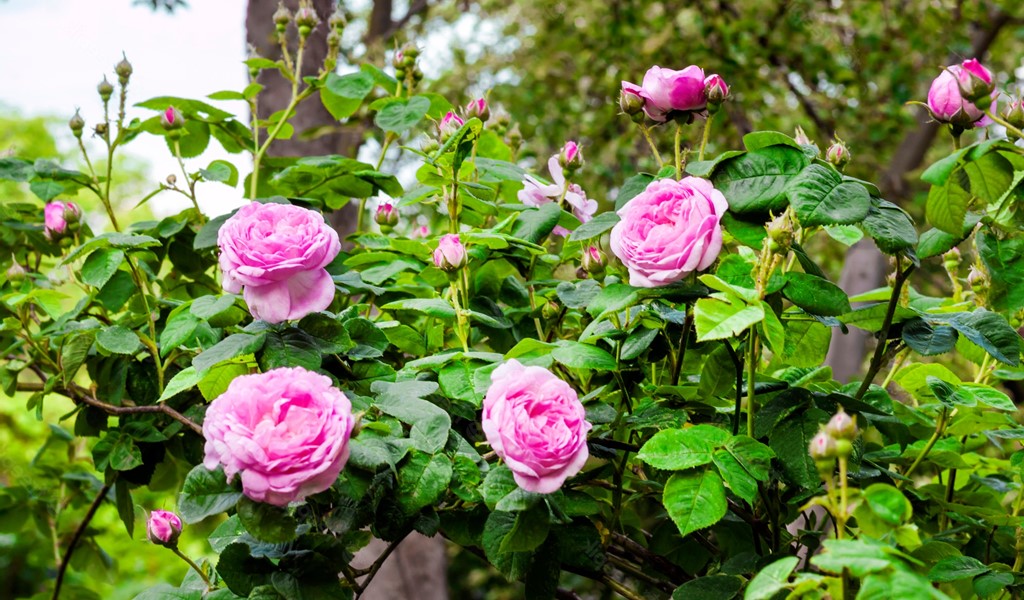 In general, the members of the Rosa centifolia class of 1800 have plenty of thorns, large, deeply cupped globular blooms, with tissue-thin, overlapping petals, a sweet and lasting fragrance, and large, rounded, drooping leaves of medium green. All are once bloomers and hardy to Zone 5 or thereabouts. They are abundant bloomers and shrubby in appearance. They do not bear significant hips. Centifolia are an especially sporty class of roses, having produced several notable offshoots, including dwarfs (Rose de Meaux), variants (The Lettuce-leaved Rose, Crested Moss), and variegations (Village Maid).
Learn about Winter Care for Roses here
Centifolia roses have long, drooping canes that are graceful to behold when they have plenty of room to spread out. They are large shrubs, 6′ and over. Some of them may sprawl and should be staked or trained for best effect. The dwarf Centifolias are somewhat more upright and dense and may be easier to situate in the garden. Some centifolia are susceptible to blackspot and mildew. To avert these depredations, make sure your plants have plenty of room to grow, and prune strenuously when needed, to allow good air circulation. They should receive full sun. Otherwise, Centifolias are vigorous and easily grown.
All full-sized Centifolias can be used in informal borders and as specimens. Dwarf Centifolas are excellent in borders, beds, containers, and as standards.
Notable Centifolias
Centifolia Roses are one of the popular Heirloom roses that you'd love to have in your garden. There were at one time up to 200 varieties of centifolia, however there are now only 20 or so that are easily obtained that include
Blanchefleur Its very fragrant heavy, white flowers are beautifully formed and tipped with red. A vigorous and thorny centifolia, it tends to sprawl out. Can be grown on a pillar.
Fantin-Latour has blush pink blooms with a button eye and a good fragrance. It grows into a well-formed shrub.
Petite de Hollande (Pompon des Dames, Normandica). A dwarf Centifolia with small, soft pink flowers. With its dense and compact habit, it is excellent as a container plant.
R. centifolia (The Cabbage Rose, Rose des Peintres, Rose de Provence, The Holland Rose). Very fragrant, large, heavy, round blooms of medium pink on a nicely formed bush. Its bloom form varies. A very beautiful and famous rose.
R. centifolia bullata (The Lettuce-Leaved Rose). A sport of R. centifolia with large, crinkly leaves and pretty flowers.
R. centifolia cristata (Chapeau de Napoleon, Crested Moss). Cristata is nearly identical to Rosa centifolia — the only difference being a mossy growth on the sepals, supposedly making the bud look like Napoleon's tricornered hat. As the flower petals unfold, the crest provides a fuzzy halo for the bloom.
R. centifolia variegata (Village Maid, Cottage Maid, Belle des Jardins, La Rubanee, Panachees a Fleure Doubles, Dominic Boccardo, etc). Large, globular, creamy white blooms are randomly striped and streaked with pale pink and have a very nice fragrance. Village Maid is vigorous, thorny and unusually floriferous and provides exceptionally fine cut flowers.
Rose de Meaux Another sport; a truly miniature Centifolia with tiny foliage and tiny multi-petalled pompon blooms of a rosy pink. It is perfect as a miniature standard.
Tour de Malakoff (Black Jack) yields a large, beautiful, refined bloom in exquisite shades of lavender and violet. Its blooms are wider and shallower than those of other Centifolias.