Water pump integrates the plants' container with a nutrient reservoir in Hydroponics and fish tank in Aquaponics systems. You need to have the best hydroponic pump with a suitable size for your system.
In this article, we'll guide you to choose the right sized pump. We also gave an example of easy and to-the-point calculations that will surely help you in this regards.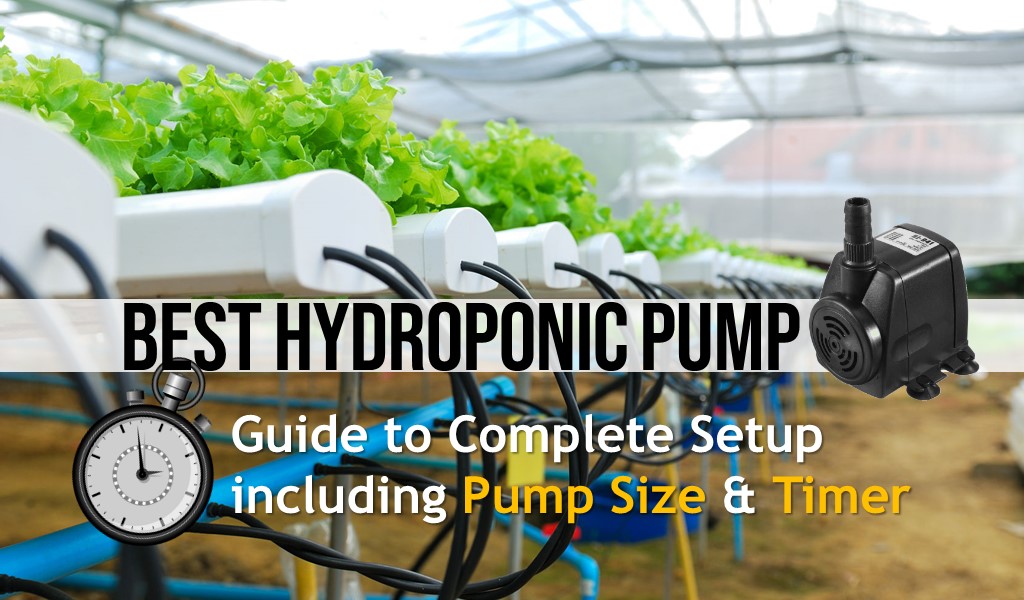 Top Hydroponics Pumps 2018
There are 4 suction cups at the bottom of every pump to you can use to stick it on a side of your nutrient tank.
| Product | Water Flow | Max Lift | Power | Power Cord | Dry Run? | Extra Features | Price |
| --- | --- | --- | --- | --- | --- | --- | --- |
| VicTsing | 80 GPH | 2.6ft | 4W | 5.9ft | No | Ultra Quiet, 2 Nozzles (0.33" & 0.51") | Check Price |
| Homasy 80 GPH | 80 GPH | 2.6ft | 4W | 5.6ft | No | 2 Nozzles (0.51" & 0.33") | Check Price |
| Kedsum 660GPH | 660GPH | 6ft | 55W | 4.2ft | No | Ultra-Quiet, 3 Nozzles (0.51", 0.75", 0.87") | Check Price |
| Uniclife | 550GPH | 6.5ft | 45W | 6ft | No | 2 Nozzles (0.75" & 1") | Check Price |
| Tiger Pump | 120 GPH | 6ft | 6W | 5ft | No | 3 Nozzles (0.51", 0.75", 0.87") | Check Price |
| Kedsum 880GPH | 880GPH | 13 ft | 100W | 4.9ft | No | Ultra Quiet, 3 Nozzles (0.51", 0.63", 0.75") | Check Price |
| Homasy 400GPH | 400GPH | 6.9ft | 25W | 5.9ft | 48 hrs | 2 Nozzles (0.51" & 0.33") | Check Price |
GPH stands for Gallons Per Hour. Flow is rated at ground/water level and without using a water pipe.
Max Lift is a maximum height the water goes up, after connecting the water pipe to the nozzle.
The pumps come with nozzles/adapters of different sizes. It improves the plumbing connection between the pump and pipe. Another function of the nozzles is to change the flow rate. Using the smaller one will pump lesser water per hour (smaller GPH). Similarly, using the larger nozzles will give you the higher GPH.
The actual flow rate can decrease because of the following reasons:
Insufficient power or frequency
Connected with a water pipe.
Water spraying out the container.
Using the smaller nozzle.
The higher up the pump needs to pump the water, the lower the GPH it actually puts out will be.
1. VicTsing 80GPH Submersible Water pump
The most popular and small Victsing submersible pump can push up to 80 gallons of water per hour and just consumes 4w of power. It has a max head height of 2.6ft. It comes with 2 Nozzles of 0.33in and 0.51in. This size is best for small container hydroponics system with no more than 2.5 ft height. Its price is even less than 10$.
2. Homasy 80 GPH Submersible Water pump
This Homsay pump produces an output of 80 gallons per hour and comes with a total of two nozzles of 5.1 inches and 0.33 inches. It also features a power cord of 5.6ft length (slighlty less than that of VicTsing). This size is ideal for hydroponics systems having small containers an less height.
3. Kedsum 660GPH Submersible Water pump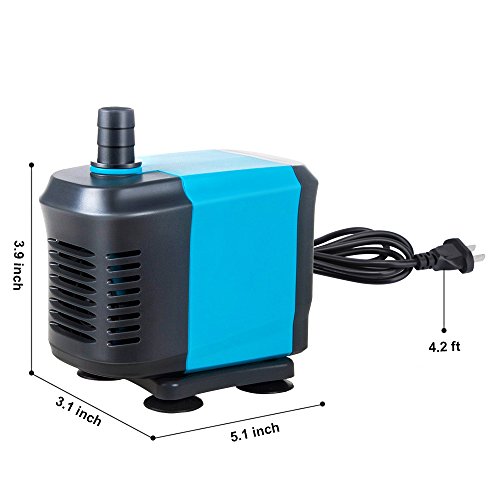 This Kedsum pump produces a massive output of 660 gallons per hour and consumes only 55W of power. According to users, this does not makes any noice. The max head height stands at impressive 6 feet. It comes with 3 Nozzles of 0.51″, 0.75″ and 0.87 inches.
4. Uniclife Submersible Water pump
This Uniclife pump can transfer 550 gallons of water in one hour. Although with lesser water flow rate than Kedsum 660GPH, it features an higher head height of 6.5ft and yield lesser power of just 45W. However, it comes with only 2 Nozzles 0.75″ and 1 inches. It is available at impressive price of less than 10$.
5. Tiger Pump Submersible Water pump
This medium ranged water pump an transfer 120 Gallons in an hour and yet has max head height of 6 feet. It only consumes 6W and comes with 3 Nozzles of 0.51″, 0.75″ and 0.87″. In my opinion, this is ideal for hydroponics tower where you don't need much flow rate but a good head height.
6. Kedsum 880 Submersible Water pump
This pump produces a massive output of 880 Gallons Per Hour. With a max head height of 13 ft, it gives you flexibility for your needs. It consumes 100W of power and comes with thress Nozzles of 0.51″, 0.63″ and 0.75″.
7. Homasy Upgraded Submersible Water pump
The only pump that made it to our top list having the feature to dry run for 48 hours! So you don't need to worry about the pump if your system gets leaked or dehydrate. This pump is able to withstand 48 hours dry burning. We have also noticed that it also gives the best max head height of 6.9 ft and flow rate of 400GPH while consuming only 25W of power. it comes with two Nozzles of 0.51 inches and 0.33in.
Hydroponics Water Pump Size
When choosing a pump, you need to learn about only 2 things for all type of hydroponics systems. 
Volume of Water
Cycling duration
how high you need to pump it
You use these three variables to calculate the following ratings of your pump.
Flow rate GPH
"Max lift" or "max head height"
How to calculate the GPH rating you need for your pump?
-If you need 60 gallons of water volume to flood the system
-you want it to fully flood within 15 minutes (1/4th of an hour)
-So, You need 60 Gallons per 15 minutes
>Since you know that One hour is equal to 60 minutes = 4 x 15 minutes
>So you need (60 x 4) gallons per (15 x 4) Minutes
>that would equal 240 gallons per hour.
Now the second parameter to consider is Max lift. It is the point when water starts flowing back (there is more back pressure on the pump than the pump can put out). You need to measure how high you have placed your growing container system above the water reservoir.
To push the water to height, the pump needs to work against gravity and weight of the water. So, the higher the pump needs to pump the water up, the more back pressure there is on the pump.
Since the actual GPH decreases with the increase in height. Always choose the pump that has the highest max lift or head height for the price range. So you will have the options to match your required GPH.
You can easily reduce the water flow from a pump but you can't increase its maximum water flow by any mean. So, get a bigger pump than your assumption of requirement.
Hydroponic Water Pump Timer
Most types of hydroponics system like Ebb & Flow, Flood & Drain, Aeroponic or a Drip system don't need a continuous flow of water. For an efficient system, You definitely need a timer to establish water cycles and set up a complete hydroponic water pump system. it will save the energy cost and also prolong the pump life.
We recommend a mechanical heavy duty (15 amp) timer. There is a possibility of burn out if you use a timer with a rating less than that of the pump. The 15 Ampere timer should work fine. Check the price and more details here.
Some digital timers take a separate battery to hold memory which can be wiped out on any power outage. On the other hands, Mechanical timers will never lose its setting and ensure your pump work even if you unplug.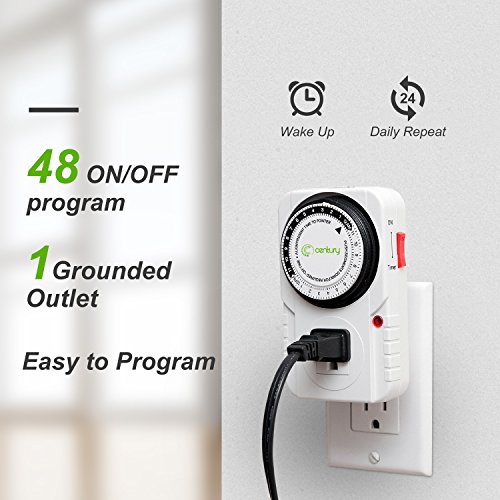 Also, make sure that your timer has enough pins all around the dial to set on/off cycles. Consider a dial timer with pins similar to the above picture. The 15-30 minutes min on/off times is usually recommended.
Aeroponic systems need a cycle timer to go on and off frequently. Usually, the timer cycle is set to spray the roots for 30 sec after every 5 minutes. (30 seconds on and 5 minutes off).
Precautions
The operating temperature range of pumps is usually 0-9℉ (0-35℃ ).
Over the time, debris collects in the pump and blocks the nozzle. This also causes the pump to make noises. To avoid this, clean the pump regularly about once every two months or with every nutrient solution change.
Be careful with lubricants in shaft/rotors/motors of pumps. Many are not suitable for your aquaponics sensitive fish and even plants. Use olive oil, if need.
Make sure the joint of pipe/nozzle is sealed securely and tightly.