Vivosun has made indoor growing possible without breaking the bank by offering high-quality grow tents at a very affordable price
Vivosun Review
There are a lot of grow tents out there. The vivosun offers grow tents at almost 1/3 of the price of the ones that you will find at the local stores. The unbelievable value for the price that Vivosun is offering makes people frown upon the quality of grow tents as the other online brands are selling at almost 4 times their price-point.
Vivosun Vs Apollo? according to the buyers who have also used Apollo grow tents found Vivosun tents having a better quality build and superior features.
The lowest price tag of these grow tents in the market has also attracted novice growers to kick off their plan to grow indoors. Most of the bad reviews about Vivosun grow tents are from the same beginners who are unaware of common problems that a grow tent of any brand will have. Vivosun isn't a mainstream company. Their price point is also hurting other big companies that are posting fake negative reviews to revive their share of the market.
You need a lot more things than a tent to grow indoor. You will need the cash for ducting, fans, filters, seeds, buckets, lights and other equipment. Buying this affordable Vivosun will help you focus more on other things as compared to more expensive tents because, in the end, you'll have the same results. Vivosun is the best value for your buck!!
Customer Service
Buying a Vivosun product comes with cooperative customer service with it. There have been instances of Vivosun offering a partial refund to offset some issues without customers' prompting. You will also not have to worry about any broken and missing piece in the package. You can email them to report any issue for quick action. Their after-sale communication and support go the extra mile to satisfy you and ensure your happiness with the purchase. This company is a prime example of what good customer service should be. You will definitely opt for Vivosun for second purchase after buying the grow tent.
Vivosun Grow Tent Sizes
Image
Grow Tents
Features
Price
1.5'x2.5' Vivosun Grow Tent

3 feet (36-inches) tall
Comes with Observation Window & Floor Tray

Check Price
1.7'x3' Vivosun Grow Tent

5 feet (62-inches) tall
Comes with Observation Window & Floor Tray

Check Price
2'x3' Vivosun Grow Tent

4.5 feet (53-inches) tall
Comes with Observation Window

Check Price
2'x4' Vivosun Grow Tent

5 feet (60-inches) tall
Comes with Observation Window & Floor Tray
3 full-sized or 8 small plants

Check Price
3'x4' Vivosun Grow Tent

6 feet (72-inches) tall
Comes with Observation Window
4-full size or 12 small sized plants

Check Price
4'x4' Vivosun Grow Tent

6.7 feet (80-inches) tall
Includes 600w grow light
Comes with Observation Window
5-full size or 16 small sized plants

Check Price
4'x5' Vivosun Grow Tent

6.7 feet (80-inches) tall
Comes with Observation Window
6-full size or 20 small sized plants

Check Price
5'x5' Vivosun Grow Tent

6.7 feet (80-inches) tall
Comes with Observation Window
7-full size or 25 small sized plants

Check Price
8'x4' Vivosun Grow Tent

6.7 feet (80-inches) tall
2x Observation Windows
8 full or 28 small sized plants

Check Price
10'x10' Vivosun Grow Tent

6.7 feet (80-inches) tall
2x Observation Windows
30+ full size or 90+ small sized plants

Check Price
While planning the grow tent setup, make sure that you consider the height of the tent. The grow lights, the pots/hydroponic setup, the ducting, and the plant growth will consume the vertical space. You would definitely want to reduce the yield with likes stubby flowering plants.
If you would like to stand up fully in your tent, you should prefer to go with 6+ ft-tall tent.
Vivosun Grow Tent Features & Quality
Vivosun grow tent offer quality and features that you can find in brands that are 5 times expensive. Even if there are few flaws, they are nothing for the price you pay.
Design & Durability
The poles have a better-than-average system of going together, and the tent goes over in one whole piece so you aren't trying to zipper different pieces around the frame.
There are plenty of well thought out openings to accommodate cables, ducting and fans. Each circular opening for air cooling has dual drawstring closures to ensure a good seal and no light leakage. Each exhaust vents has a velcro cover to close them when not using. When the cover is off it exposes a mesh and is used for ventilation. Moreover, the good arrangement of the venting ports allows for easy Daisy chaining to maximize CO2 dispensing and carbon filtering, while minimizing costs.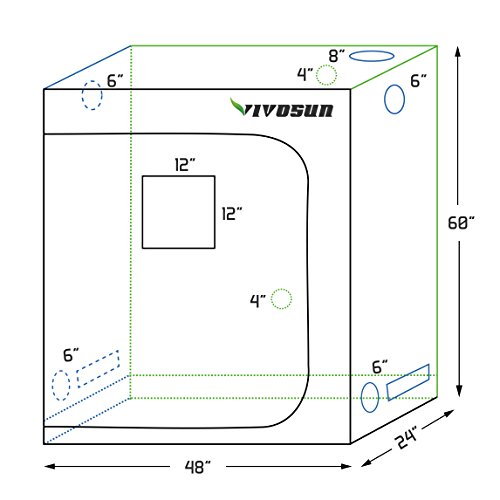 It also features a reflective floor tray that is removable, water resistant and is of same as the size of the tent and about a 3″ deep. It features Velcro around the support bars on the floor to stay in place. This removable base insert helps greatly in cleanups. It will catch any reasonable amount of spillage.
The tent has a utility pocket inside for supplies. The viewing window on the front keeps curious people happy with a peek of the plants without getting into my tent.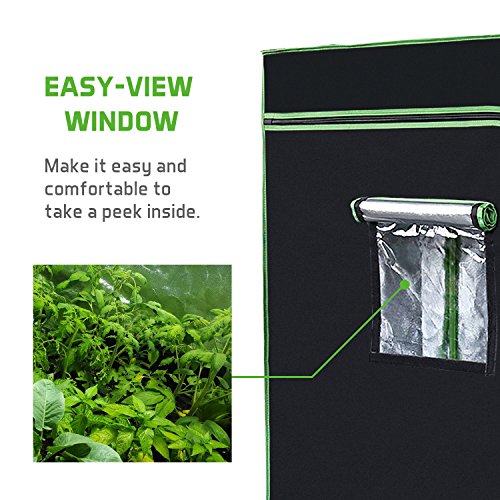 Anything connected to the corners has popup button connections. The frame has letters to make it easy to install. The door has a handy piece of Velcro at the top to hold the open door against a side of the tent.
The zippers tend to be the main concern with the cheaper grow tents. Vivosun features heavy duty zippers and has a soft overlapping black fabric/flaps to seal the light. Make sure the inner flaps of zippers to meet correctly to block the light completely. If zipper gets caught in the fabric, you can wax it in a few spots to make zipping and unzipping easier.

Leakage
All tents including premium brands have some form of a light leak, whether it's a pinhole leak in the fabric, around the seam of a zipper, corner seam, or even through the zipper itself. This is expected with all the massive needles needed for this thick fabric.
Small leakages do not impact the plants' growth in most cases. If you want to hard check any leakage, zip yourself inside during the day and look out for any light ray in blackout inside. The other way of checking any light leakage can be turning the light on inside the tent in a dark room.
If you still want the tent to be light proof, leaks are very manageable. You can easily fix it with some rubber epoxy and a caulk gun. Duct tape will do good to seal the hole too. You can also use matching colors fingernail polish to paint the holes closed. You can cover the tent with a blanket if sitting in direct sunlight during it's night time.
Build & Material
The tent is made of heavy-duty rugged material like really thick tough luggage canvas and has highly reflective Mylar coating for propagation/pre-fruit. This tent withstands any movement, push, pull, water and dirt without any damage.
The 600D thick canvas is very tight maybe even challenging to the cover around the frame. This tight thick canvas makes the tent very stable. The good stitching throughout the zippers and canvas makes it hard for the light to leaks.

The poles and corner pieces are made up of sturdy metal. These light-weight rods through the tent's entire frame can withstand the weight of a heavy large LED lights, filter and fan. They are painted (powder coated) with green color. You can paint the poles white to make the tent interior extra reflective. Factory fresh tents usually have a smell that will diminish in less than 2-3 days.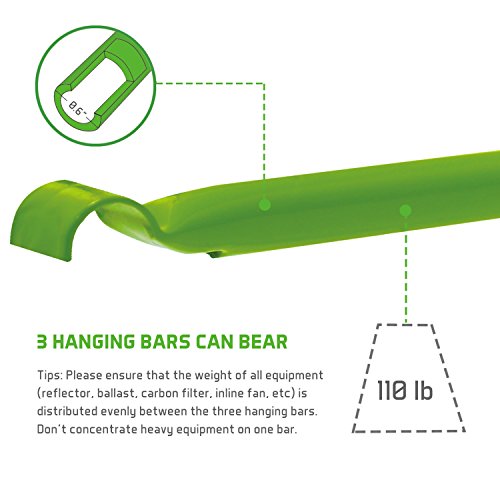 Warranty
Vivosun offers a 30-day money-back guarantee for any reason. You can receive a full refund and return your undamaged product and packaging within 30 days of purchase. You may have to pay the shipping costs if the reason for return isn't quality-related.
There is a 1-year warranty for all quality-related issues with options of replacement or a full refund including any return shipping costs.
If you have purchased the Vivosun product from any other authorized retailer, after-sales support policies will vary. You will need to directly contact your retailer to learn about the warranty process.
Summary of Pros & Cons
Pros
Lightweight and easy to move and assemble with tool-free connectors (once you know how to assemble it).
Have many small design additions that an experienced grower will appreciate.
Affordable price point
Sturdy and well-constructed tent
Outstanding Customer service, always a Vivosun perk
Super thick and tear-proof material
Heavy-duty zippers that seal light from the outside very well.
Strong metallic support frame sturdy than the plastic frame versions that can handle all the lights and fans you want to hang!
Includes an inner tool organizer to hold some small tools, nutrients and grow accessories
Removable floor tray makes the cleaning easy
Dual-layer ventilation fan opening. The inner layer seals up tight around a ventilation fan. Has a lot of vent holes which is nice for having extra options.
Cons
Inefficient and brief instructions
No windowless option
There can be some factory manufacturing issue like every tent has.
If you go in and out of your tent multiple times a day or need complete darkness, spend more money.
Like every tent brands, some of the product may have light leaks.
Unreliable Velcro areas
Setting up Vivosun Grow Tent
Although you will find many customers complaining about the incomplete instructions, The tent is fairly easy and DIY to set up. No discussion of necessary additional equipment or how the tent is designed for that additional equipment.
You will need to construct the frame first and then wrap the tent around it. The light green metal poles lock in place with no tools needed. Just lay out the floor portion and put the assembled frame on it. Once the frame is assembled, you have to open the tent up, attach the top of the canvas to the top of the frame, then roll the tent to its side then upside-down to "roll" the tent over the frame. Zip it up and turn it right-side up.
We have included a video to help you through the process.
It also includes 2 extra metal poles to put your light up (the long and short way). Put the bottom tray after you assemble everything. You can use a small duct fan will work with a variable controller and a timer to run every 2 hours for 15 minutes. You can use ratchet hangers to suspend the clip fans.
Other Popular Vivosun Products
1. Seedlings Heat Mat
You can germinate the cherry seeds by keeping them in the fridge. But what about the seeds that need warmness? this product is perfect to germinate the seeds beforehand indoor during winters. This Durable Waterproof Seedling heat mats definitely increase germination rate. However, the best practice is to buy a thermostat to avoid any overheating. You can germinate seeds of Jalapeno, squash, zucchini, San Marzano's, Sun Golds, Cucumbers, and bell peppers using this mat without any problem! Check it out here.
2. Soil tester
Vivosun offer Soil Tester that calculates the Moisture/humidity, test Light and PH. A great buy to test soil of your Home, Garden, Lawn, and Farm. Check it out here.
3. Heavy Duty Grow Bags 
If you are looking for fabric grow pots. Vivosun offers Pots that are significantly cheaper, more heavy-duty, and have durable stitched handles compared to others in the market.  Check it out here.